You've come up with your business plan, ordered your inventory and made the plunge into the world of small business ownership. Congratulations! This is a huge accomplishment and one that you should definitely be proud of.
If you are like many new small business owners, you are probably wondering about how social media will be able to help you. Chances are good you already use Facebook to post cute pictures of your kids and stay in touch with old friends, but you may be unsure about how to use the incredibly popular website and other similar platforms to assist with your small business success.
To help you out, we've outlined 3 key mistakes that small businesses make when approaching social media and suggested what you can do to avoid them.
1. "Let's just make an account everywhere"
Mistake
A common mistake for a lot of small businesses is that they create accounts of all the popular social media platforms. Because they spread themselves too thin, they end up doing a so-so job at five or six of them, when in fact it is far better to be successful at one or two.
Advice
As Small Business Trends noted, using social media effectively requires keeping several key points in mind. Number one is to develop a strategy. Rather than trying to be part of all of the sites, stick with the ones that truly mesh with your particular type of small business.
Once you figure out which social media networks are best for your own small business, then determine what your goals should be. Do you want to have more "likes" on Facebook? If so, then focus on posts and content that will drive people to your page.
2. "I'll get to that later"
Mistake
Response time is also a biggie when it comes to social media success. Because of the overload of work small businesses face, it is difficult to reply to followers' social media posts. So you postpone and reply at a later time. But the problem is that when your followers post a question or concern, they are hoping to get an answer right away. Your delayed response time will be unfavorable.
Advice
As I mentioned before, running a small business takes up a lot of time, so it might be a good idea to hire someone—perhaps an intern—who can help you reply to people as quickly as possible. The ability for you to do this effectively will score massive customer service points with your customers.
3. "Let's just use the same post here and here"
Mistake
For whatever reason, sometimes businesses use the same post across several social media platforms. Most of us have probably seen this in action at one point or another and it only tends to make the company look redundant, not impressive.
Advice
Each social network has a different type of follower, if you are able to successfully use more than one, tailor your posts to each platform's typical audience.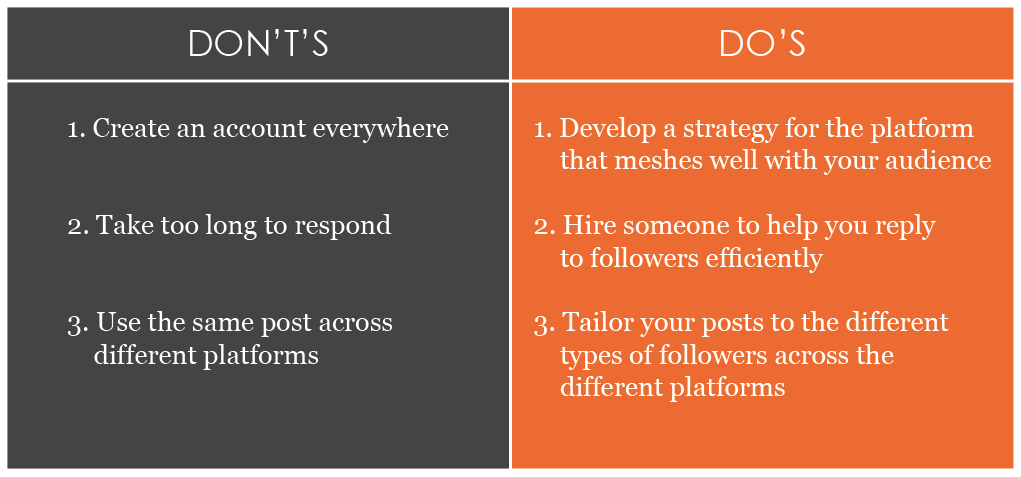 Summing Up
Although you might encounter a few totally understandable bumps in the social media road as you get your small business established on the various websites, take heed in the knowledge that you are making a very wise choice.
An article on eWEEK pointed out that social media is definitely here to stay. In fact, 84 percent of respondents to a survey said they were going to increase their use of social media at least a little bit in the future. So hop on board the small business social media express—you'll be glad you did!