Now that we've debunked the fold myth, we can start on the main course: long homepage designs. People are usually wary of scrolling as it is, so when it comes to long page design, the outlook is generally negative. The general opinion is that no one is going to scroll that much or read all that copy.
Why short homepage designs have their merits, I'm here to argue that longer pages can be better. In this article, I'll let the numbers do that talking and show you the conversion aspect of long pages.
About Scrolling
"Fine. We get that the fold is a myth. But can people really handle all that scrolling?"
If you're using a Safari browser, look to your right. Where are the scroll bars? That's right, Apple chose to eliminate the scroll bars in their web browsers because they feel like viewers no longer need visual cues to remind them to scroll.
Nowadays, with smartphones and tablets and long emails, scrolling comes second nature to us and it's no longer an issue. In fact even back in 1998, scrolling wasn't a problem. According to a study performed by User Interface Engineering, long pages and short pages performed equally during user testing and no one mentioned scrolling in either case.
So people are ready to scroll. If done right, long pages can solve a lot of problems and can present a better solution to short pages. Here's how.
More Room For Long Copy
When writing long copy for a homepage, many people worry that no one is going to read it. Viewers tend to have a short attention span and may lose interest in what's going on if the copy dragged on too long.
Before I get into why long copy works, I'd like to show you a micro-experiment on long copy vs. short copy conducted by MarketingExperiments.
They sent traffic to two landing pages using Google AdWords. The first page was a product homepage with short copy. The other was similar but with much longer copy. After 10 days, here are the results.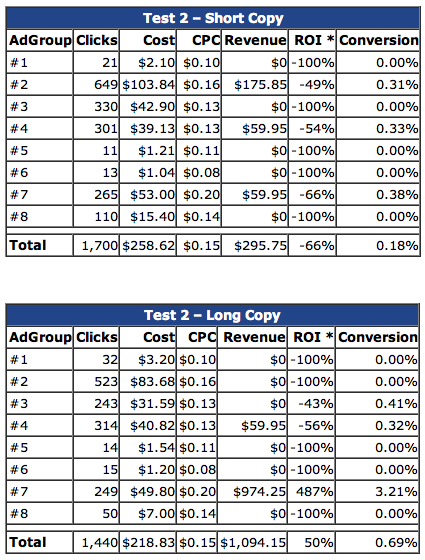 Long copy outperformed short copy by almost four to one. The ROI of short copy was -66% while the long copy garnered a whopping 50%.
Why? Here are the advantages:
You have a bigger chance of answering your customer's questions. If you address the most common questions or concerns that your customers have, you will reduce their anxiety and they will be more likely to move along the buying funnel.

Long copy means that you will get a chance to explain everything about your company, even the most complex idea. This alone helps you target more qualified leads and you will not find yourself wasting time on sales calls you know you're not going to close.

Long, keyword-rich copy performs well in search engines.

Well-written copy that grabs your audience's attention ensures that they will spend more time on your website, which will also help you perform well in search engines.
If you really take the time to properly craft your long copy, people won't lose focus, you'll get all your ideas across clearly, and you will get more conversions.
No More Pogo-Sticking
If you have a particularly long or complex idea that you want to present but you don't want users to scroll too much, what do you do? Divide the idea into smaller ideas and present them on different, shorter pages with links leading from one page to the next.
The result? People will end up jumping from one link to the other, spending very little time on each page. Some people might not even click at all. You run the risk of higher bounce rates and incomplete messaging.
Going back to UIE's study on scrolling, longer pages actually worked better in cases like these. Users preferred fewer, longer pages to lots of shorter pages.
Higher CTA Conversion
In our last article, we talked about the case of British Airlines's CTA displacement resulting in a 304% increase in conversion. In a similar case, MarketingExperiments moved a CTA from the top of the page to the bottom of the page.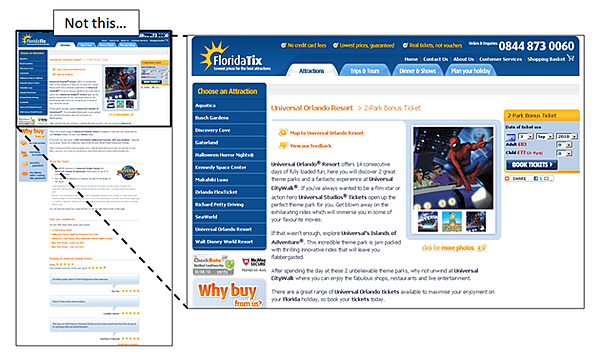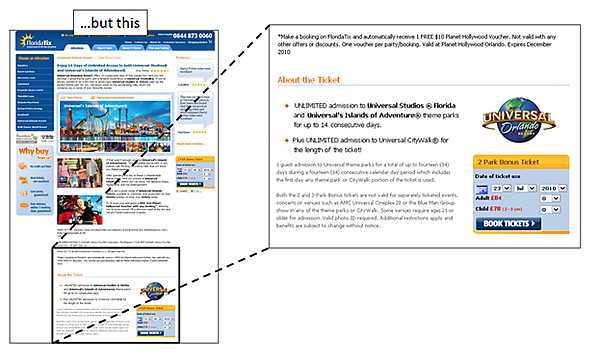 The result was a 20% increase in conversion. The reason for this is that after people read the copy, they were more convinced with the product and were more likely to request it.
Placing middle or bottom of the funnel CTAs after a long copy helps you prepare your viewer for what's about to come and allows you to tackle the benefits before making an offer.
A Word Of Advice
It's true that long homepage designs have a lot of merits, and, just as you saw now, can increase conversion. But I've been saying this throughout the article and I'll say it once again, a lot of thought and consideration has to be put into the messaging and design of the long page in order for it to work. Otherwise, viewers will lose interest, get distracted, and go elsewhere.
In our next article, we'll be discussing the design best practices of long homepage design so stay tuned.
Previous Post:
Part 1 - Debunking "The Fold"
Next Post:
Part 3 - Design Considerations