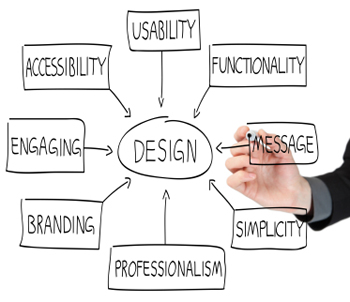 If you are a small business, a website is a great tool to enhance your visibility, build a brand and obtain sales leads. Today, businesses of all sizes are using websites in a wide variety of purposes; from putting across their message to the consumers to offering support to customers. However, one of the biggest predicaments of small businesses in breaking into the World Wide Web is lack of insights.
Small businesses have the same potential in establishing their online presence as big companies do. It doesn't largely depend on budget anymore but rather the approach. As a small business, the web enables you to put up an authoritative online presence; in the sense that it helps you make your website not only a presentation of business profile but as a lead generation tool as well, and beyond.
Web Design Analysis
The best approach to a winning small business web site design is by analyzing your business, the target audience as well as the goals. Ask yourself, Who am I targeting? What am I expecting to achieve with this website? Do I want a good presentation? More traffic? More leads? The approach to your website project can take many different routes depending on what the primary objectives are.
Here are some example of good objectives:
To generate more leads

To help our business close more sales

To help my clients learn how to solve their problems
Here are some other examples of objectives that are not that good:
To present our services - this is a basic objective, and it's a given. If you are making a new website, you will want to present what you do in a way that is easy to understand, utilizing down to earth language that is clear to your customers. Hwever it is not a primary objective either.

To help our brand - Really? Branding is important, but it is likely the people coming to your site may be already looking for information on how you can help solve their problem, rather than to fall in love with your brand (a few exceptions, obviously)

To have a professional presence online - this may be a valid objective but only as long as it help you generate more leads and close more sales.
Find a Web Design Company with a Holistic View
With the analysis findings as your blue-print, find a web designer that has a holistic view of online marketing: this may be the most important criteria, because if you define your objectives correctly, you will need a partner that can not only deliver a great looking site, but also ensures that it is search engine optimized and conversion optimized so that your buyers can find you, and then convert into leads and paying customers. Lastly, make sure the expert is well conversant with current web technologies such as cross-browser and mobile compatibility, so that your website will not be obsolete as soon as you launch it.
Start With a Template
The creative part of a web design project can be extremely time consuming and very costly. Also there are hundreds of thousands of examples for small business web site design already; I'm sure you can start somewhere. Strongly consider CMS like Wordpress or HubSpot and utilize a ready-made template.
Design For Users
Once you have found the right web design firm, emphasize on the need to design your website with usability in mind. One of the reasons why websites do not yield as expected is that professionals might focus on design features while forgetting how the target user may actually interact with the site. While technical aspects are equally important, the user experience should not be compromised. Your website should be aesthetically pleasant and easy to navigate. A big part of this is to keep the site map structure very simple. Unless you really have a lot of content, keep your site structure to 2 levels, so that within 2 clicks the user can get anywhere in the site. If you feel you need more than 3 levels consider moving some of the content to your blog. Another big portion of how the user interacts with the site relies on a clear understanding of how the user looks for information about your product or service, and what is the sales process like. Your web designer must consider where to place certain key calls to action that are appropriate for buyers that are at different stages in the buying process: awareness, research, evaluation, ready for a demo. Therefore your web designer should be knowledgeable about conversion techniques so that your site can help you generate more leads and close more sales.
Content Management System
Another aspect that is very important as well is the maintenance of that website. As a small business you may not have technical know-how in-house to keep it going. Therefore, your website should be developed in such a way that it will be easy for you to update content and change some other basic elements without the need of knowledge in web programming. This can be achieved by use of open source content management systems such as WordPress, HubSpot or a custom CMS made specifically for your needs.
Blog
If you are interested in blogging (we highly suggest that you become interested), consider having your blog as part of your main domain. If you are an active blogger or plan on becoming one, the amount of content and of indexed pages in your blog may proliferate rapidly. Having all that structure as part of your domain can be one of the best SEO decisions you can take.
Social Media Friendly
Social media networks: Facebook, Twitter, Linked In, among others, have become important tools in engaging with customers, building a brand and generating leads. Besides having social media accounts for your small business, there are many applications that can easily be integrated into your website so that you can easily share content with your audience and interact with them. Therefore, make sure your website has these in place.
Search Engine Optimized
Search Engine Optimization continues to be the most successful Internet Marketing technique and your website needs to be Search Engine Optimized, so that it fulfills the purpose of helping you get more traffic. So as to have it ranked in Google, Bing, Yahoo search and others, make sure your web site design includes search engine optimization. This will be very helpful in bringing visitors to your website without having to pay anything.
While businesses and small business web site design professionals may have different approaches in creating websites, the above elements are very essential and should not be over-looked.
In essence, small business website design is no different than big business - look at your web site as part of your sales selling toolkit. Make it have a role in your sales process and take advantage of it.