Any experienced businessman has heard of Cialdini's name. The 68-year old psychologist and marketer became famous in 1984 when he published his 6 principles of Persuasion in his book, "Influence: The Psychology of Persuasion". 2 million copies and 26 languages later, the book is still relevant today as it was then.
Why is it still relevant?
A fair question. Influence carries the distinct characteristic of going straight to the point. The reader will never find himself or herself lost at any point throughout the book and will end up feeling perfectly capable of absorbing all the information in that information-dense book. But this post isn't a book review. I think the numbers of sales and languages translated into are good witnesses to the quality of this book. I'm here to talk about the principles enshrined in Influence.
Let me start by listing all 6 principles of Persuasion:
1. Reciprocity
2. Commitment and Consistency
3. Social Proof
4. Authority
5. Liking
6. Scarcity
The first thing anyone would notice is how simple they sound. And indeed simple is what they are. The modus operandi of these 6 little devils are, quite happily, accessible to all.
Reciprocity



We tend to want to give something back when something is received. If someone grants us a favor, we wish to grant a one back. The example Cialdini gives in his book is quite astonishing: After the 1985 Earthquake in Mexico, Ethiopia donated thousands of dollars in aid relief despite suffering from very serious economic problems. Turns out, Mexico supported Ethiopia when Italy invaded in 1935.
Interesting.
A more familiar and relevant example to Inbound Marketers is Crazy Egg's and QuickSprout's Neil Patel. His website is focused on his blog where he gives advice and suggestions on various topics related to marketing (and how to be good at it). In return? He has one of the most influential marketing websites of all time.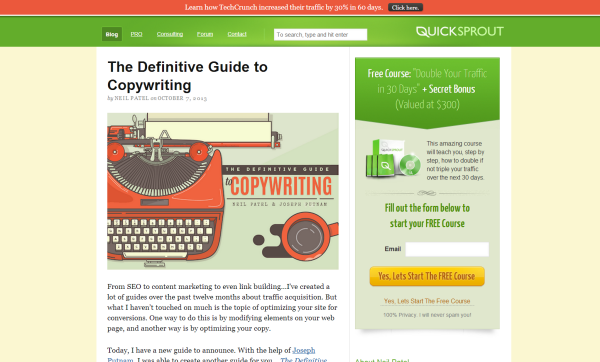 The Lesson: Give something worthwhile and you shall be rewarded.
Commitment and Consistency
We want to be viewed as being consistent. If we openly declare something to be against our beliefs, we tend to do our best to maintain that image. Funny thing is that once we declare something, that declaration will be our commitment which in their will be our self-image.
Similarly, we view positively the commitment of others. So when you visit Brian Clark's CopyBlogger, you soon notice that a single click will get you 14 ebooks and a subscription to a 20-part Internet marketing course. Now that's someone who's really dedicated to marketing. By subscribing and following the courses, the likelihood of the visitor seeing himself/herself as a potential customer increases.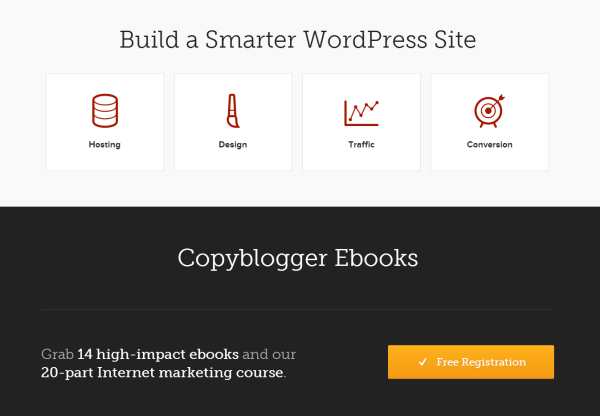 The Lesson: Show commitment by taking a leap and dedicating yourself to your business, and everything about it.
Social Proof
Stand in the middle of a crowd and look up into the sky. Do it for a while and you'll notice other people looking up. Humans are naturally influenced by other humans, and humans seek approval of other humans. It's part of what makes us a social species.
How can we apply it to B2B marketing? As Neil Patel quoted in KISSmetrics:
• Over 70% of Americans say they look at product reviews before making a purchase. [source]
• Nearly 63% of consumers indicate they are more likely to purchase from a site if it has product ratings and reviews. [source]
What this means is that you've got to show that your website is 'socially approved'. Display your social proof by including the number of followers, subscribers, shares and what not. These include Feedburner Chicklet, Facebook Like Box, Twitter Follow Box, Google+ +1 box and so on.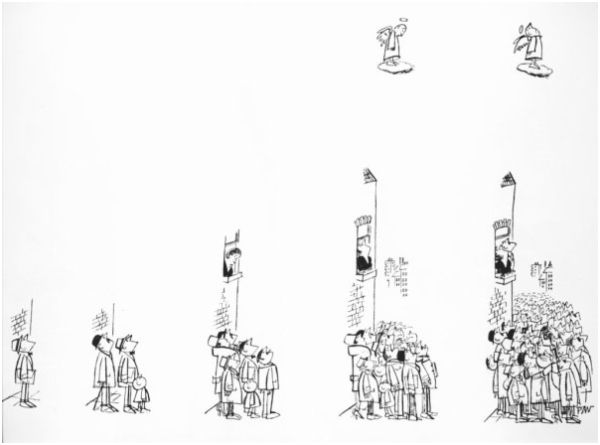 Cialdini, 1988
The Lesson: If you have it, show it. Don't hide your success, display it.
Authority
This one is probably the most well-known one. If you have people of authority representing your website or talking about your website, it can generate customers like nothing else. A sports shoe brand with a famous athlete representing it will sell better than one with no one representing it. Why? that's because amateur sportsmen will associate their desire to achieve greatness with someone who already achieved it.
To achieve a level of authority, you have to earn it. Aim always at providing the best of qualities so that you gain a reputation worth preserving.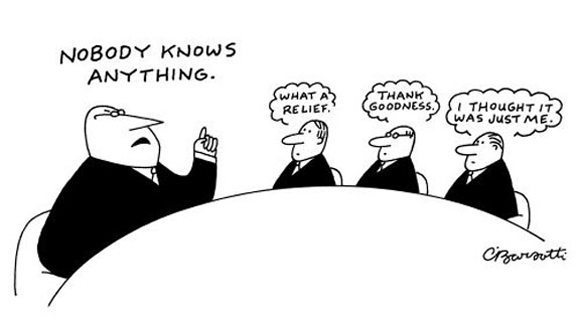 The Lesson: Show commitment by taking a leap and dedicating yourself to your business, and everything about it.
Scarcity
When something has limited availability, it starts feeling more valuable. If we're told that the item we want is the very last one or that its special discount price will soon expire, we are more likely buy it than if it was available in large quantities and indefinitely.
This may not necessarily be always applicable to your day-to-day B2B marketing business, but it's good to keep it in mind.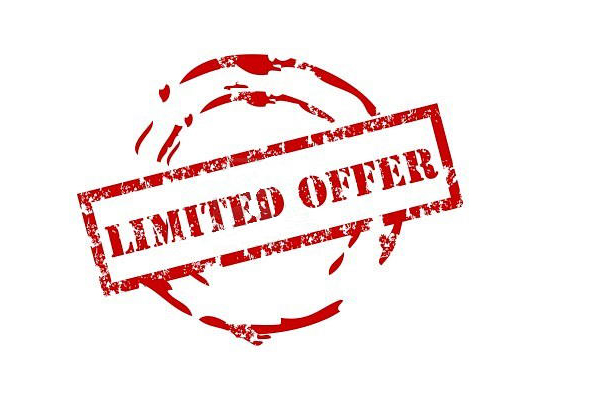 The Lesson: The rarer it is, the more attractive it becomes.