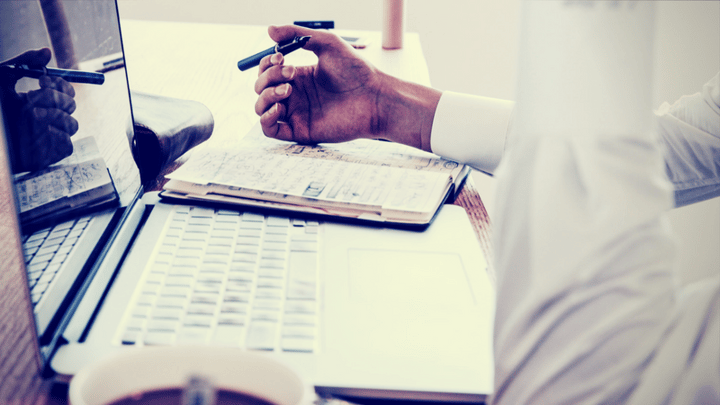 Growth-Driven Design is a web design methodology that's rapidly gaining traction in the industry. Agencies and companies using this methodology to redesign their websites are experiencing faster time-to-value, and higher increases in visitors, leads, and customers, than companies redesigning their sites following a traditional one-and-done approach.
GDD is not a silver bullet, and it doesn't work in isolation, nevertheless, you can be sure that if you think your company can measurably benefit from a website redesign, then your company is a good candidate for Growth-Driven Design. This article explores some of the factors that can help you determine if Growth-Driven Design is a good fit for your organization.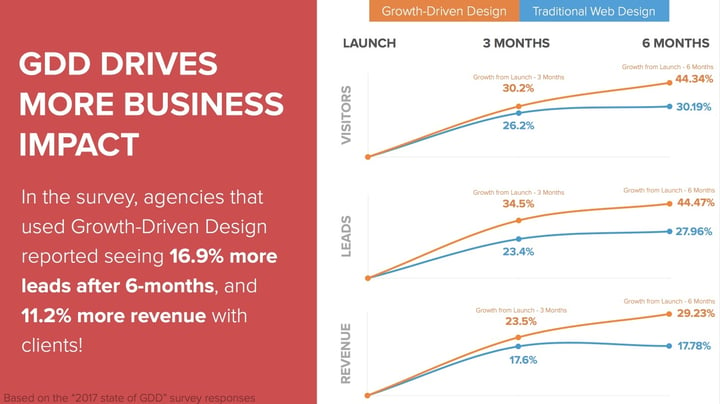 Image credit: 2017 State of Growth-Driven Design
How to determine when your organization is ready for Growth-Driven Design?
Your company can benefit the most from the Growth-Driven Design approach if it meets the following criteria:
1. The more traffic your site has, the better - but GDD also works for low traffic sites.
Growth-Driven Design is an approach to web design that utilizes data to inform decisions about copy, layout, design, and architecture. The process is iterative, hence the idea is to inform decisions -> form hypothesis -> design a test -> observe -> implement changes -> rinse and repeat. Therefore, generally speaking, the more data you are able to collect (higher traffic), the more confidence you can have on the decisions being made, and the faster the time-to-results.
If your website has low traffic (under 5k visits per month), you can still benefit from GDD, it's just that it will take you longer to mine the data, and likely you'll have a lower level of certainty about the data you collect to make decisions. In some cases you will not be able to collect any data at all and you will need to base your decisions on heuristics, or one-on-one user studies.
2. You're past the initial startup traction stage of growth
If your company is is just getting started, and has a product that is still in beta, you have bigger fish to fry than worrying about your site design. Your priority at this stage should be continuing to validate your product and get the first few clients in the bag, not focusing on growth.
Companies who are at this point should keep Growth-Driven Design in mind, and it will be handy at a later stage, once you have a proven product in the market and your focus shifts from getting a viable product out the door into establishing your brand and boosting your company's growth.
3. You have a critical mass of happy customers
One of the reasons that make Growth-Driven Design achieve better results than traditional web redesigns is due to the face it's data driven. The whole first phase of a GDD implementation is dedicated to research: learning about your customers to learn things such as:
The reasons they chose you over your competitors,

How would they describe your product and its benefits...

What was their buyer's journey like?

What was their role in the decision process

etc...
So, if your company is at a stage where it doesn't have a critical mass of satisfied customers yet, Growth-Driven Design is not yet for you. Focus on building a raving customer base first.
"The whole first phase of a GDD implementation is dedicated to research." Tweet this quote
4. Your firm has some track record with Inbound Marketing and your site is generating some leads.
If your main objective with Growth-Driven Design is to increase the overall quality and amount of lead capture, you will want to define Lead Quality and Total # of New Leads Captured as KPIs.
Now consider this scenario: Say your firm has zero traction with Inbound Marketing; you are generating no content at all, no blogging, and the only call to action on your website is a Contact Us link somewhere in the page. Further, there is no one in the organization accountable for generating such content and increasing web traffic.
Can you still benefit from a better website? Sure - there are a lot of things that can be done to improve the layouts and architecture of your website, even in the absence of traffic - it will take longer to prove your hypotheses, but it can be done.
Will you reap maximum benefits from your GDD efforts? Likely not. Your KPIs relate to acquiring new leads and increasing lead quality, and that can only be maximized when there is a healthy flow of new qualified visitors to the site, which likely happens if you are generating content. In fact, in your website's hierarchy of needs, the base is Audience. Everything is built upon that.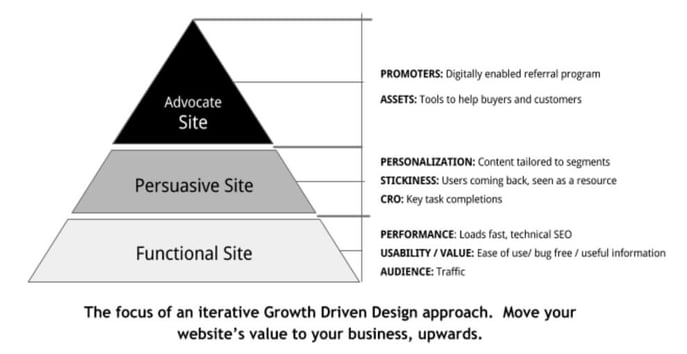 5. Your firm is running paid ads
If you are pouring money into PPC, LinkedIn or other kinds of paid ads, you can benefit handsomely from adopting a Growth-Driven Design approach, more specifically the Conversion Optimization part of it.
A continuous improvement approach like GDD can help you optimize the whole conversion funnel from the ad to the landing page instead of stopping at optimizing click thru rates.
In fact, the bigger your ad spend, the faster you can benefit from adopting GDD to help optimize your top performing campaigns.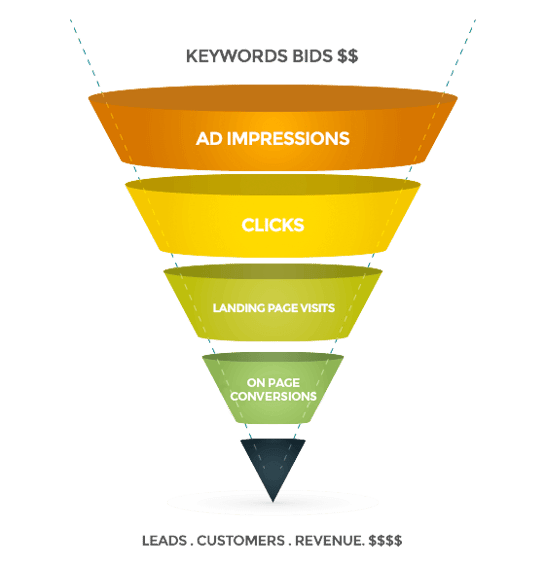 6. Your marketing department has at least one full time employee
This actually applies to every marketing initiative being run. If your firm is serious about realizing growth from the digital channel, success simply won't happen if there isn't at least one capable professional dedicated to make it happen.
There are several ways to structure a marketing department for success. Here is an idea of how to split the different programs and accountability for results among your marketing team.
7. Your marketing team has freedom of action - it's not being micromanaged
This principle also applies to every marketing initiative, not only GDD. Yet, GDD is a typical victim of a micro management style because of the fact that it is touching the website (including the homepage), which is a shiny object, that can be subject to a lot of scrutiny from the leadership team and even investors.
It is essential that you have the ability to listen to the opinions from stakeholders, understand the concerns, have the wisdom to distill the important bits from uninformed opinions, and have the klout to hold your ground and make everybody listen.
If your position will be to "just give them what they want" and disregard the research, data, the evidence, and the experience of the professionals around the website, adopting a GDD won't get you very far, you'll be constantly frustrated from the lack of results, and still you will have to explain the poor performance of the website to the same group of opinionated stakeholders. Don't put yourself in a losing position.
8. Your company has a strong customer-centric focus,and values customer input
A company that is Customer-Centric understands a few things very well:
First and foremost - not every customer is an ideal customer;

Has a very clear definition of what the Ideal Customer Profile (ICP) is.

It has an insatiable thirst to understand the issues of their ICPs through research

Designs products and services to solve precisely those problems

Gets out of their way to make sure that customers that fit the ICP are beyond satisfied, and have a pleasant experience across every touchpoint (the website being one of them)
Growth-Driven Design is an ideal approach for customer-centric organizations because it proposes improvements to the website based on data collected from actual users, and input from end-customers.
Growth-Driven Design is a necessary process to improve the customer's experience across all website-based touchpoints.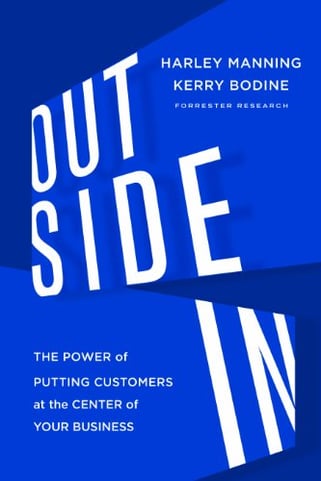 Image credit: Outside In - The power of Putting Customers at the Center of Your Business
Let me repeat:
"Growth-Driven Design is a necessary process to improve the customer's experience across all website-based touchpoints." Tweet this quote
9. Your marketing team has established SMART goals
When an organization establishes specific goals, with key measurements that are consistently tracked and managed, magical things happen. It seems that the mere act of setting goals, focuses the team on the right things and performance improves. Some of these goals may include:
What's the revenue growth goal for the next year? 5 years?

How much is marketing expected to contribute to those goals?

You have broken down marketing goals and have specific expectations for the website performance
Having goals is a critical success factor in a Growth-Driven Design program. However, goals assigned to the GDD program can't be the only goals that marketing has because GDD doesn't work in isolation. So your organization is even a better fit for Growth-Driven design if:
Your marketing team and vendors are accountable for specific metrics for each one of the marketing programs ran.

Marketing has a specific lead commitment to sales and contribution to revenue, whether it's a lead quota, or a marketing contribution to revenue goal
10. Your firm has other stakeholders that can benefit from an iterative approach to the site.
Increasing the volume of leads, and improving lead quality are two of the most common macro goals that GDD is typically responsible for. There are however other users of a website that are commonly overlooked. Satisfying the needs of these other users is actually critical to the overall success of a company. Some of these other significant users of the site, often overlooked are:
Existing clients:

A lot of companies make the assumption that once a client is onboarded, all marketing ought to stop. But your website still has a role for existing clients, especially around telling the story of how your company can help throughout the entire lifecycle. The ability to continue to tell this story is critical in the company's success in upselling other services and expanding its relationships with ideal clients.

Employee candidates:

Recruiting top talent is a key strategic objective in most organizations. A poor performing website that doesn't reflect the organization favorably can hurt the company's ability to recruit top talent. Further, if one of the primary objectives of your organization is to attract new talent, you could use the same data-driven approach GDDD offers, and apply it to understanding candidate user behaviors and making data-driven improvements to the careers section of the site.

Industry Analysts:

If you are a software company, to a great extent, your website influences the perception of industry analysts, and often help them build an opinion about how your solution approaches solving a problem.

Investors:

If your company is public, investors will have a particular set of interests and motivations that can persuade them to invest in the firm. Having a proper investor relations area of the site that answers repetitive questions that investors have is important.

Channel Partners:

This set of users have a different set of needs on your site. Providing information about the program, presenting training material and resources, is mission critical for them. In addition, having website functionality to qualify and recruit new channel partners can help grow the channel partner program, if this is an objective for your organization.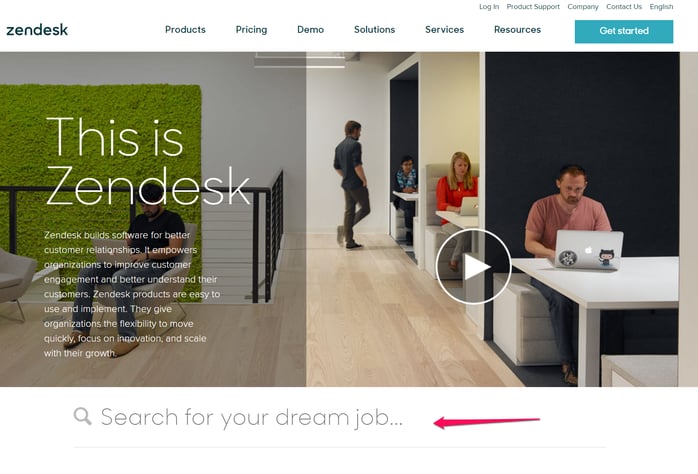 Image credit: Attracting talent is a key strategic initiative for Zendesk
Conclusion
Growth-Driven Design is a very powerful data-driven methodology to get the website to deliver better results.
Like any other marketing initiative, however, it works best when there is actionable data to work with. To make the most out of this methodology your company should have some, if not all of the following:
A steady stream of traffic

Is an established organization

Has happy customers

Has trackable marketing data

Is running ads

Has a dedicated marketing team/person

Marketing is not micromanaged

Organization is customer-centric

Marketing has and uses SMART goals

Has other website users that can benefit
What about you? What else do you think should be on this list?
Have you tried to implement Growth-Driven Design only to find out that your organization isn't setup to reap the benefits from it?
What stood in your way?
Please comment...