Focusing in on the onboarding process to gain more traction isn't necessarily a groundbreaking idea. As marketing professionals, we all understand that the onboarding process is crucial — it's how we introduce our products to our customers, afterall. Still, so many SaaS companies struggle to develop impactful programs that resonate with customers and push them to become buyers.
Marketing gurus and self-proclaimed experts have offered for years vague advice to improve our onboarding processes — improved UI, shiny graphics, the kitchen sink, gamification, and more. While helpful for some, these recommendations fall flat when faced with a simple truth: no two products are the same, nor are any two products' onboarding processes. A vaguely worded solution simply does not offer an effective roadmap, especially when every company's approach to onboarding is different.
To curb this, we shifted our focus on data: an indicator of success that is universal to every business.
Working collaboratively with our partners at InnerTrends, we have developed a framework to improve traction through a data-driven onboarding process. It is our hope that our framework can provide a roadmap for developing an effective onboarding process.
To explain this framework we will define the onboarding process, as well as establish a tangible metric to measure its success. Further, we will provide a recommended strategy to improve low onboarding rates.
Overview
Who is this framework for?
While we believe aspects of our approach can be implemented by any company or brand, it would be disingenuous of us to claim such broad appeal. Instead, our roadmap should be used as a blueprint to implement a successful onboarding process for your specific brand.
This particular framework is built on the assumption that an organization is a product-led growth company that uses a free trial or freemium strategy to attract more customers. Of these companies, this framework is best for those who are searching for data-led insights on early traction in order to better understand the consumer's needs and offer a better trial experience.
While this article has a specific audience in mind, it is our hope that companies of all shapes, sizes, and industries can find points that resonate with their needs. If you would like us to develop a framework closer oriented towards your business's design, please feel free to contact us by visiting our website.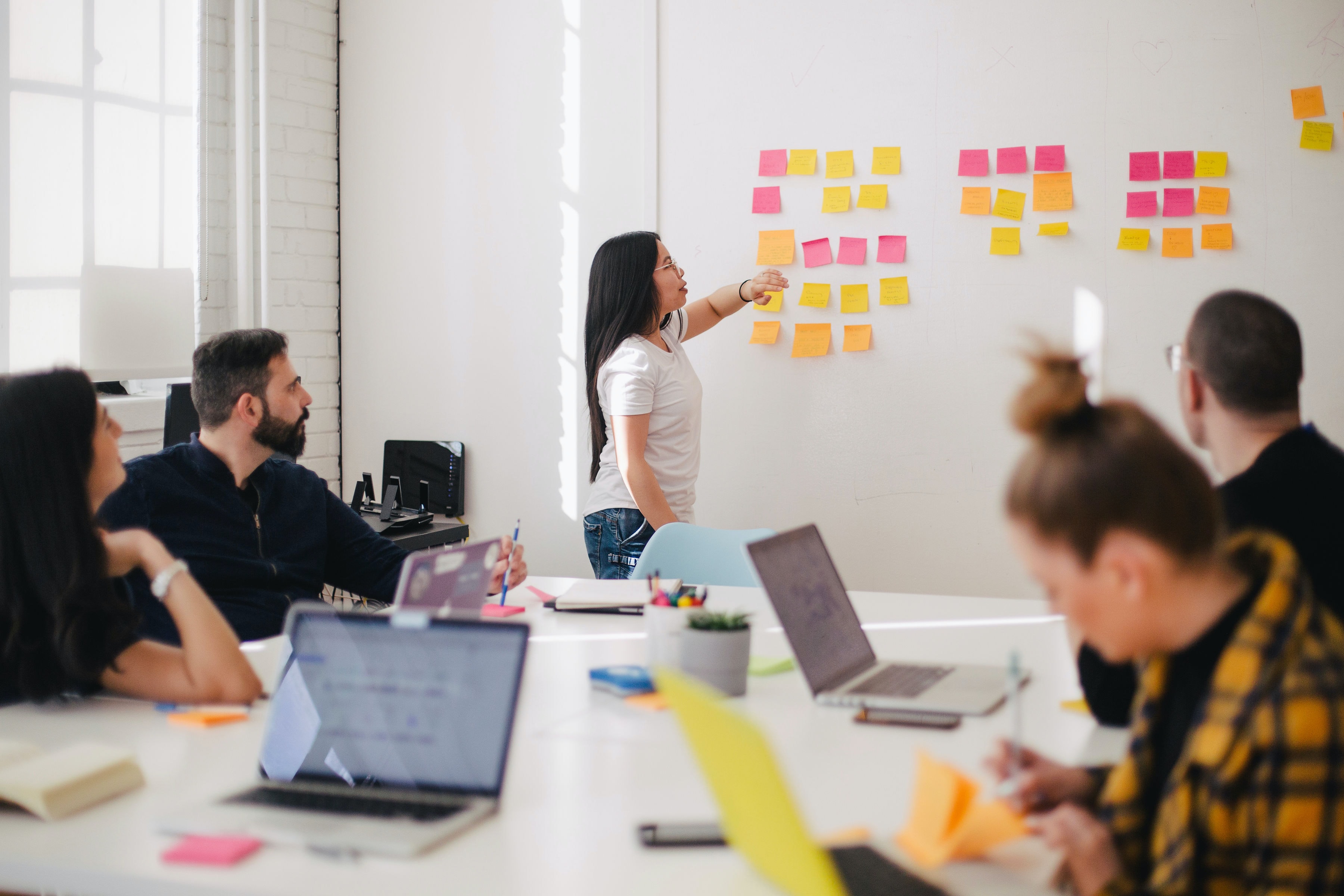 Defining the Onboarding Process
Like all other things in the business world, the onboarding process has a vast amount of definitions, largely dependent on a product's industry and purpose. For our specific framework, we've used the following definition:
The onboarding process is the period from when a user creates their account to the moment when the promise of the product is delivered for the first time.
On the front end, our definition does not differ much from other perspectives within the SaaS community; as product-led growth companies, almost all of our brands have an account. From our perspective, this logical start to the onboarding process is bookended by the moment where a product's promise is first met.
Simply put, the promise of your product is the value that it can deliver in the eyes of the consumer. Most often we loudly announce this promise by putting it upfront and center: it is our headlines, our hero sections — the things we brag about to get users to create a profile.
The importance of targeting the onboarding process
The onboarding process is the product-led version of handing out free samples. Like how stores prove their brands' promises by allowing customers to taste their products, SaaS companies can utilize the onboarding process to curate the customer journey.
Generally, the way customers convert from a free trial to a paid user follows a simple flow:
Users first start their trial by creating the account. During their free trial, the users have the opportunity to use the product first hand. As expected, those who experienced the product's promise are more likely to maximize their trial and upgrade to the paid product. Alternatively, those who do not experience the promise of a product will likely never hit their trial limit, let alone purchase the product. The process can be expanded to renewals.
From a data perspective, this theory becomes obvious — illustrated below.

As the first chart (blue) shows, 44% of onboarded accounts return after their first week using a trial. This figure continues to drop until week 3, when the percentage of onboarded accounts finds a relatively stable point — around 20% retention. This means that of the users who have experienced the promise of a product, 44% returned to it after week 1 and a stable 20% returned consistently after week 3.
The second chart (red) illustrates the percentage of users retained that did not complete the onboarding process, meaning they had not experienced the product's promise. This visual paints an urgent message: most users will decide if they want to continue using a product in less than 7 days from account activation. Showcasing a slope that would terrify the most expert skiers, retention drops over 80 points in under a week.
In a universal language, data presents a clear message: companies have hours, if not minutes, to begin showcasing their promise. As a result, a free trial or freemium plan must curate an experience that showcases the real value of a brand's solution. If they don't, products will simply be forgotten.
Promise as a Metric
By placing the promise as the bookend to our framework, we are able to establish a clearly defined, observable data point: the users that met the promise of a product. This metric is essential to operating our framework.
In order to measure promise, you must establish a tangible onboarding point. This data point is the moment in which a user has experienced the product's promise, thus completing onboarding. This point should be a tangible action that completes the onboarding experience. Typically, this is the moment when users complete the job a product is designed to accomplish.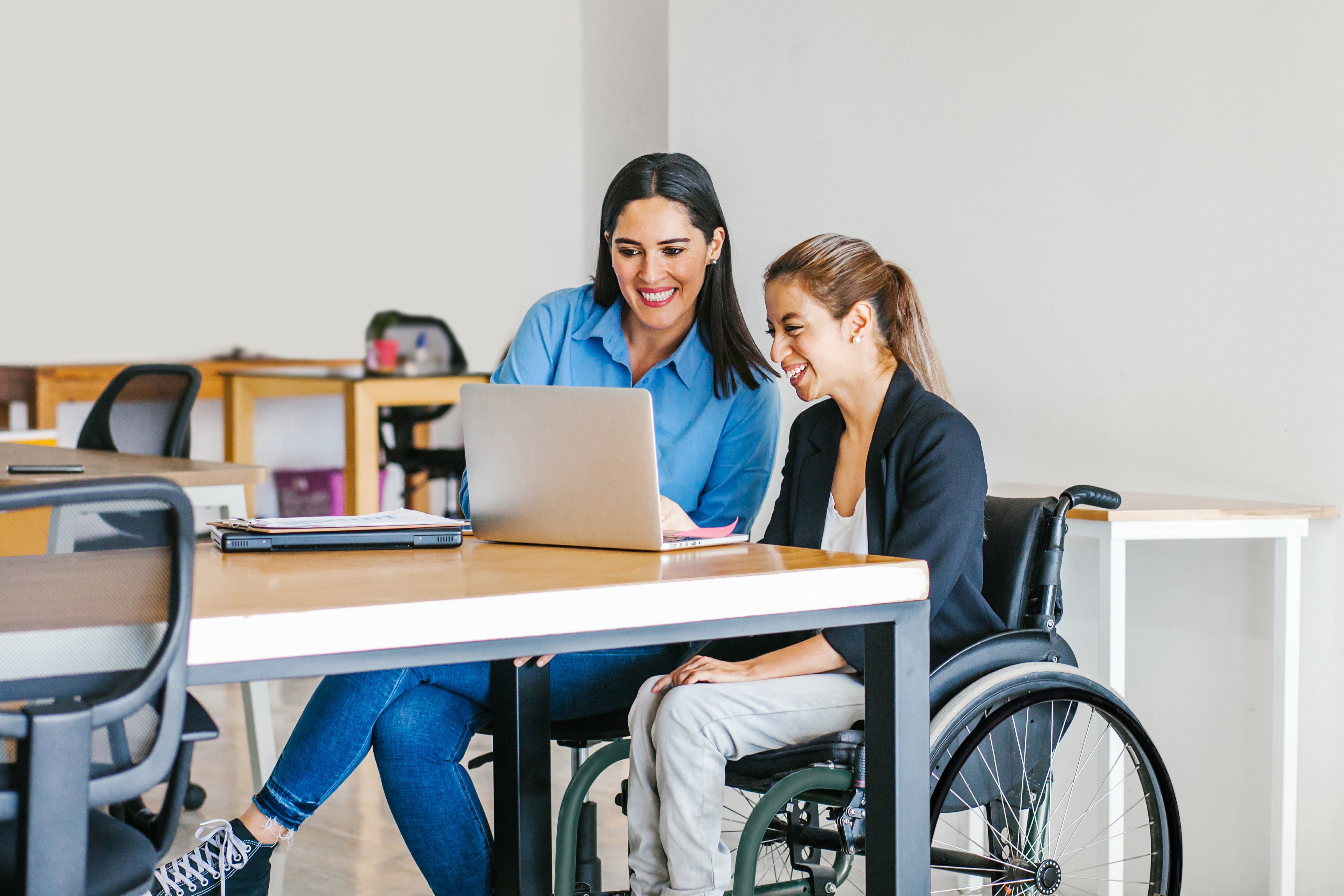 Using the onboarding point, we can measure the amount of users that reached a product's promises, which can be used to find an onboarding rate.
The best way to define your promise is not with data, but by analyzing your product and your customer's journey. To assist, Market 8 and InnerTrends partnered together to create a tool that can generate custom journey maps in minutes.
Example
PandaDoc is a digital platform designed to allow users to digitally sign a document. Fittingly, their onboarding process begins with creating an account and ends once a user receives their first electronically signed document.
The promise of the product is to allow users to electronically sign documents, which is the exact point when onboarding ends. If PandaDoc had a 40% onboarding rate, this would mean that 40% of users that create an account sign an electronic document.
Onboarding rate in practice
While every company will differ in their performance metrics, our research has found the following:
Among product-led growth companies that target the B2B market, an onboarding rate of 40-60% would be considered successful. This benchmark suggests that a successful onboarding process would see around half of all users reach a product's promise. With thoughtful experimentation and reliable data, B2B operations can even reach an onboarding rate of over 70%.
The B2C sector sees a lower standard for success, as consumers are typically more volatile and reactionary users. Keeping this in mind, a B2C focused operation can consider their onboarding process to be successful if 30-50% complete it.
Just how important is a strong onboarding rate? Our research suggests that there is a correlation of 0.8 between experiencing the promise of the product and upgrading.
Tackling Low Onboarding Rates: A Framework
With promise defined as our key metric, we can now use our framework to improve the onboarding process. In this section we will demonstrate how to use our framework to tackle low onboarding rates.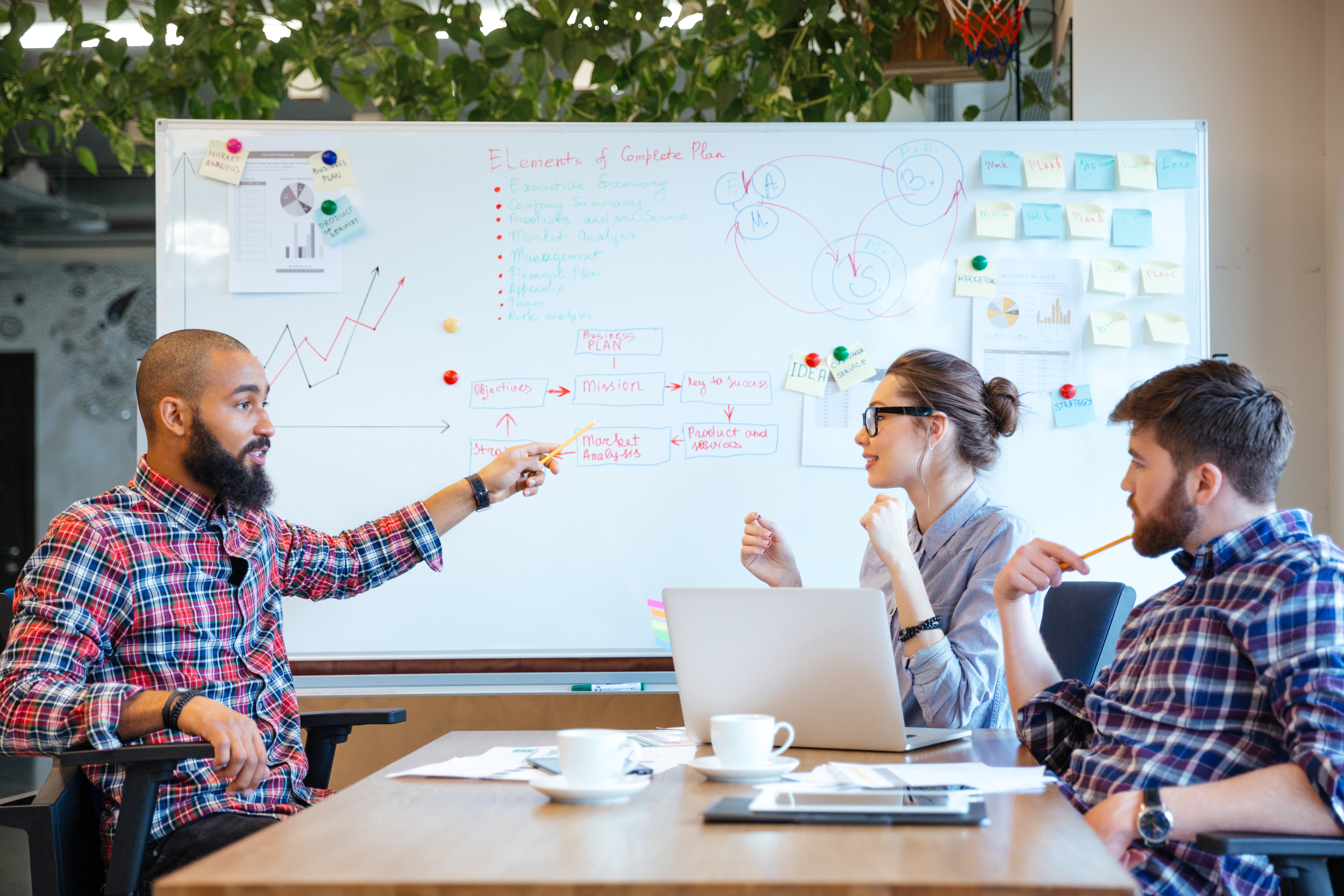 Step 1: Define your onboarding process's touch points
It should go as no surprise, but the best way to improve low onboarding rates is to start by analyzing the onboarding process itself. Specifically, we recommend defining the touch points that customers experience during the onboarding process.
These benchmarks should be in line with the technical requirements for the product, as well as demonstrate the product's promise. Typically, these touch points are part of a sequence, requiring completion to continue on.
Example
To match their technical requirements and demonstrate their product's promise, the PandaDoc team defined the following touch points in their onboarding process:
1. User creates an account
2. User uploads a document
3. Document is sent to second party
4. Document is signed.
Notice how the process begins with creating an account and ends when the promise (the ability to sign documents digitally) is accomplished.
Step 2: Identify roadblocks
Our research shows that 20-50% of users will delay going through the onboarding process after reaching a point of friction. Typically, these roadblocks are directly related to technical requirements within the onboarding process. Steps that are overly problematic can disincentivize users to continue their trial experience, leading to higher churn.
After defining the specific steps in your onboarding process, we recommend analyzing the customer's journey and identifying potential bottlenecks. To do this, we recommend using a cohort analysis funnel. When doing so, analyze each step of the onboarding process as its own respective cohort; analysts should look to observe the amount of users that fail to continue the process after reaching each step.
Generally speaking, a drop off of 10-20% is fairly normal; anything above should be considered problematic and worth further investigation.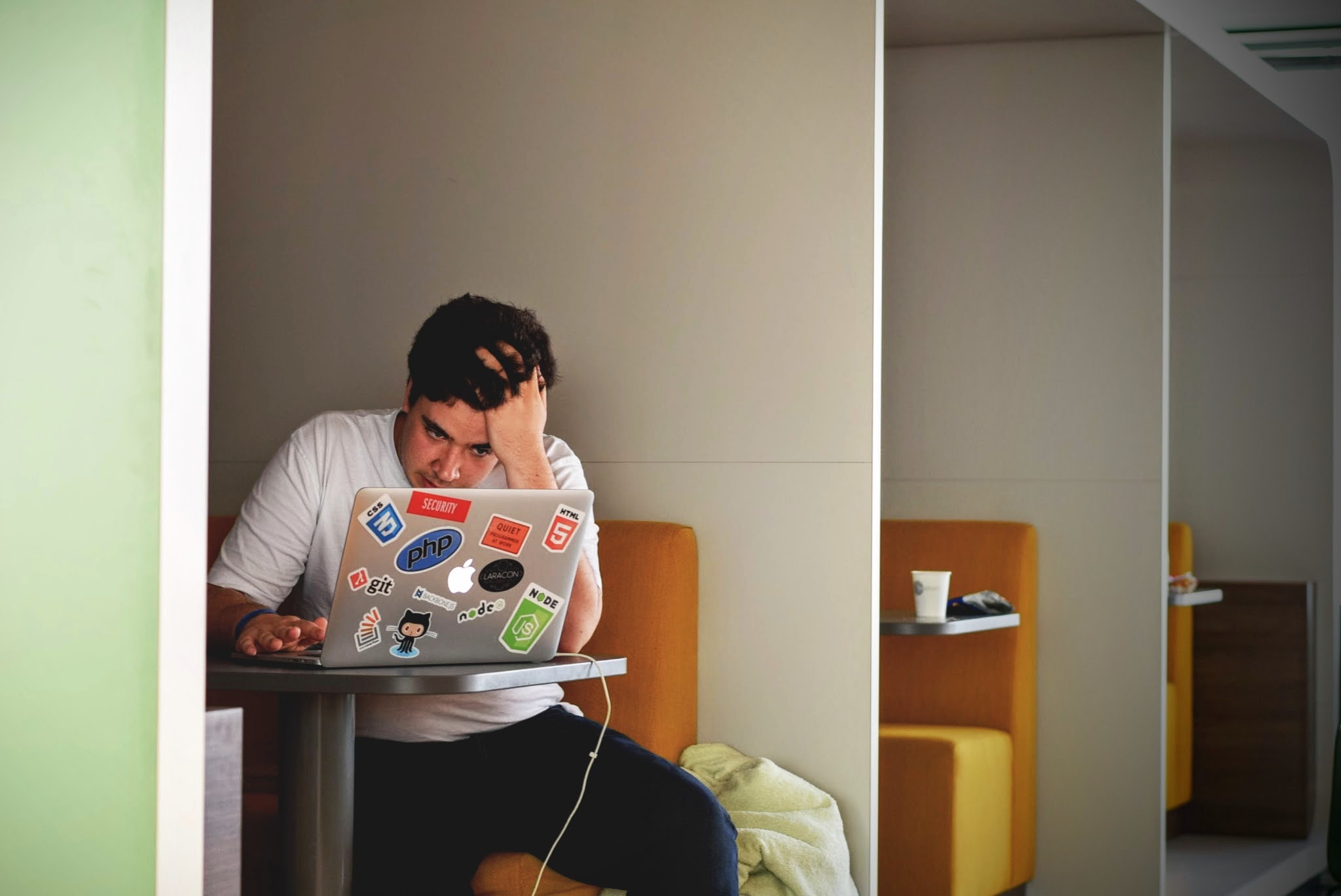 Step 3: Identify what influences drop off rate
Once we have analyzed the steps of the onboarding process and noted points of severe friction, we can begin improving the onboarding process. Touchpoints that saw over 20% of users drop off should be the highest priority.
The first step to improving our onboarding process is to legitimately understand why points of friction are occurring, specifically the actions of users during problematic touchpoints. Using add-ons and algorithms, such as InnerTrends out-of-box product, you can receive detailed analysis on every action users have between steps.
Using the report created, you can then categorize the actions into three categories:
Actions that are specific to accounts to reach the next step
Actions that are specific to accounts that dropped off
Actions that are not specific to either group
Instead of trying to read the mind of the users, categorizing this data allows you to understand what their customers actually find important and problematic within your onboarding process. Actions that positively correlate with completing a step can be considered well-received by the user base. Contrarily, actions that correlate negatively with step completion represent points of friction for users. Actions that fall into the third category should not be disregarded, even though they're not specifically impactful.
Using this data, you should look to improve or eliminate the problematic steps in order to improve your onboarding process. The decision to do so should relate back to your customer journey map; if the action is not necessary to reach the promise of the product, it can reasonably be removed.
Example
In an earlier version of PandaDoc's onboarding process, the development team added a step in which users can add their company's branding to their e-doc. While the customizable feature on paper sounded like something consumers were interested in, data suggested differently.
After analyzing the actions of their users, PandaDoc found that adding branding to a document had a negligible, if not negative impact, on the onboarding process. To provide a more streamlined process, the PandaDoc removed the branding step entirely.
Step 4: Tackle the onboarding time
After optimizing the physical onboarding process, it is time to tackle user onboarding time.
Often, companies will try to utilize Average Onboarding Time as a metric to monitor their processes success. While a decent idea in concept, the data point does not accurately reflect the nature of user onboarding times. As the chart shows below, onboarding time regularly reflects a long tail curve, with outliers progressively throughout the process. As a result, an average does not accurately represent the bulk of users.

To avoid using tainted data, we recommend using an algorithm that automatically removes the longtail from the average and generates a new mean from the common user behavior. Doing so provides an accurate understanding of how long the common user engages in your onboarding process. Those that engage in common behaviors are an accurate representation of the average user.
Typically, this step prompts further discovery into customer habits. For example, within our figure we identified 39% of accounts with a common behavior: an average of approximately 10 minutes to finish the onboarding process. As marketing individuals, we would want to see what key behaviors led to this common behavior; for example, our 39% of users may have been able to complete the onboarding process so quickly because they had completed some prerequisite or came with prepared material.
Regardless of the data output or the story behind it, this exercise can be used to analyze the behaviors of your customers and adapt your onboarding process accordingly.
Step 5: Tackle influence of email onboarding
Within the product-led growth sector, email is one of the most common tactics used to drive the onboarding process. Along with product tools, email is central to most onboarding experiences. When it comes to measuring the success of campaigns, however, many companies fixate on traditional numbers like click-through-rate, open-rate, and more.
While a solid approach for baseline metrics, we believe a deeper dive into onboarding-related emails can lead to a better overall process.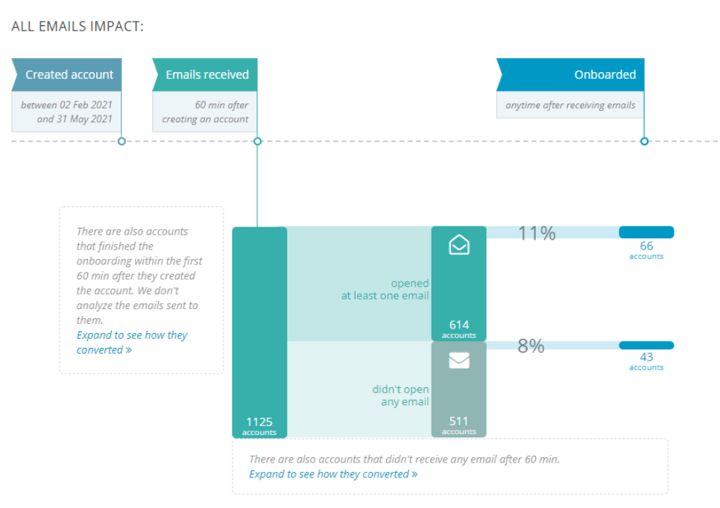 For example, within the figure above we can see that 11% of users that opened one email completed the onboarding process. Depending on our goals and KPIs, this statistic may indicate a successful effort. The issue, however, is this approach ignores a significant number of users that began the onboarding process.
When analyzing the users who never opened an onboarding email, we find that 8% of our sample still completed onboarding. Because the difference in converted users is at just 3 points, our data suggests that our email strategy did not have a statistically significant impact on the user onboarding process. Had we not dove deeper, we would have assumed our campaign was much more effective than it actually was.
These in-depth statistics should be used to paint a clearer picture of your email campaign's success. Analyzing and adjusting your campaigns appropriately will allow you to build better approaches that drive more onboarding completion.
Moving Forward
At its core, a product's promise is what the product actually does — PandaDoc let's you sign documents digitally, DropBox lets you store and share files, etc. Oftentimes, our product's promise is detailed in our headlines and our ads.
As data suggests, the biggest reason people do not convert to paid users is because they do not experience the promise of a product. While a common occurrence, we decided to solve the problem with a new approach: data. As we continued to research, we designed a framework for product-led growth companies that use a freemium/free trial model.
More of a blueprint than a guide, our framework is designed to help you better understand your onboarding process and the factors that cause users to churn. If you have any questions, or would like assistance or consulting, please visit our website and reach out.