The inbound marketing industry is a booming field right now – it's the proverbial next big thing in marketing,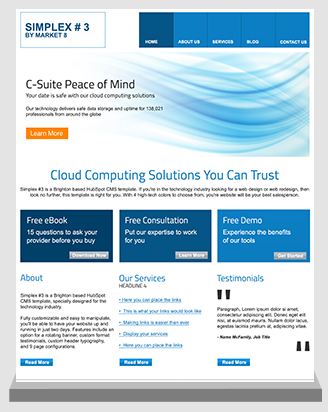 and everyone is rushing to get onboard the bandwagon, from freelance writers to established offline ad firms that see which way the wind's blowing.
Yet of all the names rushing to get noticed in inbound marketing, right now one stands out: HubSpot. They are currently, along with Google, among the go-to sources for SEO advice. Between their excellent collection of tools and years of expertise, there's good reason for a company to partner with them.
The Hubspot web design philosophy focuses on using data, as much as possible, to inform your online marketing decisions. Virtually everything is track-able, and watching enough customers' buying habits will add up to a lot of information about your site's performance, quickly. You should be using it for maximum results.
Using Hubspot Web Design Philosophies To Upgrade Your Marketing Decisions
We wanted to take a look at the "SMART" Hubspot web design philosophy, and how it relates to goal-setting. If you haven't run across this particular Hubspot acronym before, it breaks down to:
Specific

Measurable

Attainable

Realistic

Timebound
SMART, right? (Yes, they're very droll.) None the less, this does excellently describe the possibilities in your server records, especially when you've got the right CMS and the right inbound web design in your corner.
Setting Objectives That Maximize The Potential Of Your Hubspot Web Design
Specific: Whenever possible, in your planning, you should be dealing with numbers. "Gaining more lead conversions" isn't a goal; it's an idea. To turn the idea into a goal, make it definite: "In the next year, we will see a 10% increase in lead conversions through web content upgrades." Then, win or lose, you at least have a finish line and know when you've crossed it.

Measurable: Always be tracking measurable quantities. Even ephemeral concepts like "happiness" can be quantified down to a 1 to 10 scale. So don't fear highly subjective terminology – as you as you remember that all you're getting is one person's personal impression. All those add up to market trends; they do not necessarily add up to fact. You can get more factual conclusions by sticking to easily-observed factors, but don't lose sight of the bigger picture.

Attainable: Your goals, both big and small, should be realistic enough to be within your reach. It's great if you want the biggest name in your industry – so does nearly everyone. Start laying out concrete steps that will get you there. Use your CMS system to track past performance, to aid your future planning. Remember: everyone is experimenting when it comes to online web design. Don't look at failed ideas as negative – they're simply experiments in design, and every one provides a wealth of hard data on your customers and their behaviors.

Realistic: As is said, you need to know both your competition and yourself to succeed in business. Use the data at your disposal to keep a realistic and grounded view of where your company is truly at. You can't create solid plans for the future without knowing where you truly are. Remember: no matter how much you wish something were true, if the data says otherwise, you have to let go of the idea.

Timebound: Again, the key is being specific – have timeframes in mind, on several different scales. You may have to adjust the estimates as time goes on, but you always want to be starting from numbers which are specific, even if they end up being inaccurate. Write out how your current steps towards where you want to be in six months will then be building towards the expansions you want to see in a year, and then how that influences your five-year strategies.
Using SMART Hubspot web design gives you the guidance you need for making smart decisions about your growing company's future.