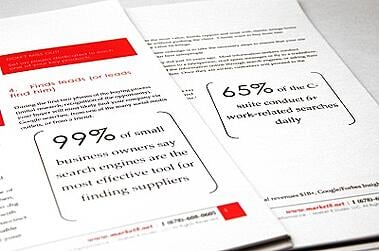 Your company's website should be the central location for communications with current and potential customers. It should be considered your company's "best salesperson." It is very important to keep this in mind during you web redesign process.
If you think for a moment what it is that a good sales person does, you will find that most of those characteristics and abilities are things that your website should be able to do. Among others are the following:
Adequately Presents Himself
Your online presence is best represented with a clean, proper image. Your image should represent your company and its personality.
Show Your Value
Your web redesign should also focus on communicating the value that your company provides. Use simple, easy-to understand language that gets straight to the point. The point is to show them how you can benefit them.
Finds Leads (or Leads Find Him)
During the first two phases of the buying process (initial research, recognition of the opportunity), your website is most likely found through word of mouth, physical, or digital, and through search engines.
Be an Expert
Your website should explain your products and services even more effectively than the best salesperson. You should use it to show that you are an expert at what you do. Use video and dedicated products pages with detailed information to provide your customer with the ability to dig deeper in search of more information.
Site Blog
There is a very good chance your customer will arrive at your blog first. As your web redesign process continues, you need to have your blog in either a subdomain of your main site (blog.company.com), or within the same URL structure as your main website (company.com/blog).
Adjusts the Message According to the Audience
The more complex your product or service is, the more likely your client will have different stakeholders and different levels of decision-making. During your web redesign project, adjust your message in different sections of the site and your blog to appeal to those different audiences.
Educate Your Audience
Concentrate on demonstrating value first through your content. Create landing pages that for your piece of content that is strictly designed to help the customer, without regard to selling your product.
Answer Expected Questions
Your website is always accessible. 24/7. Your web redesign needs to ensure that your site answers the key questions that may arise during every stage of their purchase.
Lead-Nurturing
A good salesperson will make sure that leads go through a process of qualification. A lead-nurturing campaign helps you communicate how your company works and the issues that your company can help solve.
Update regularly
Every time you make an update to your product or service offering, your "best salesperson" should be prepared and ready to communicate to your buyers. You must build web redesign using a robust Content Management System so that you can update it as frequently as you need.
"Soft" Sale
Your best salespeople sell without actually pushing for the sale. They always understand where the buyer is during the buying process and know just when to make the "soft" sale. Incorporate this during your web redesign project.
Value-Based Upsells
Present complementary products or services in every touch point. On every purchase there is likely an opportunity for the client to benefit from other things you can do for them. Your website should be prepared to showcase those when appropriate.
Track Performance
Of course, the main purpose of your website is to help you sell more of your products or solutions. Your "best sales person" always knows his numbers. Make sure that all traffic and key points of conversion on your web site are measurable.
Get More Information
Now that you have an understanding of how your Web redesign project can be organized to achieve maximum marketing performance, it's time for you to get started. Download your e-book now and learn how to:
gain new customers at a lower cost of acquisition

measure your results

boost your bottom line
Your website will be able to go further than any salesperson ever could if your Web redesign process considers these principles.