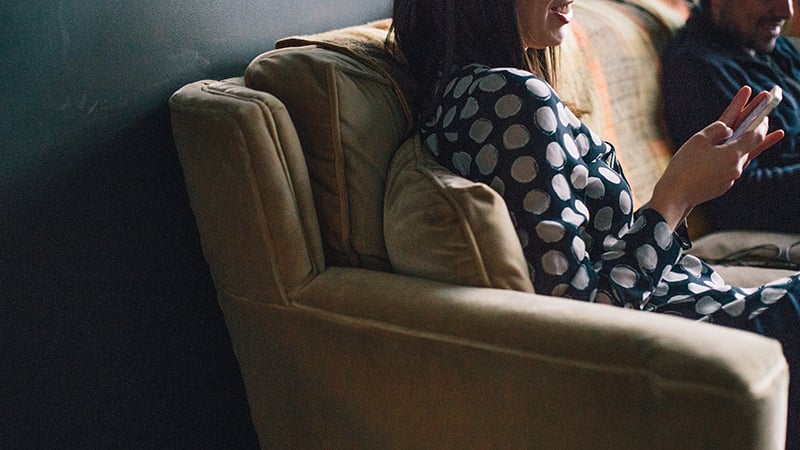 There's perhaps no bigger factor to get right on your B2B website than the element of trust. A B2B that gradually builds up a reputation of trustworthiness for itself will enjoy not just new leads and conversions, but, more importantly, also loyal repeat customers that have come to rely on your B2B website as the place from which to buy a product or service. By implementing surefire ways to boost your online credibility, you can help your brand a lot.
Think of some of the biggest brands on the planet: Apple, Coca Cola, Toyota, etc. What does each of these giant brands have in common? They have been wildly successful in persuading their customers to trust them. As a result, their credibility with their customers is unshakable.
Tech geeks know they'll get the sleekest, most user-friendly products from Apple. Sugar addicts know that they can deliciously quench their thirst when they open a can of Coke. Drivers understand that they'll get a reassuring combination of reliability and performance from Toyota.
You can replicate this same, rock-solid credibility for your brand on your B2B website if you adopt the best practices of boosting your credibility on your website.
We're going to take you on a highly interesting, whirlwind tour of how you can get your buyers to trust your brand with the best trust-building elements in the business.
What Hurts Trust on Your B2B Website?
Before we even get into what you can do to build trust on your B2B website, we naturally have to look at all of the different mistakes that can potentially hurt your credibility in the first place. After all, one of the best ways of ensuring that your website retains credibility is by eliminating all bad practices on your website that your buyers will potentially see as untrustworthy.
The first sure-fire way to decrease trust is the failure to include easy-to-see contact information on your B2B website, whether that's an email address or a phone number. According to the 2014 Content Marketing Institute's B2B Web Usability Report, 55% of survey respondents said that the absence of contact information lessens a B2B vendor's credibility. Another 37% said this absence also "wastes their time."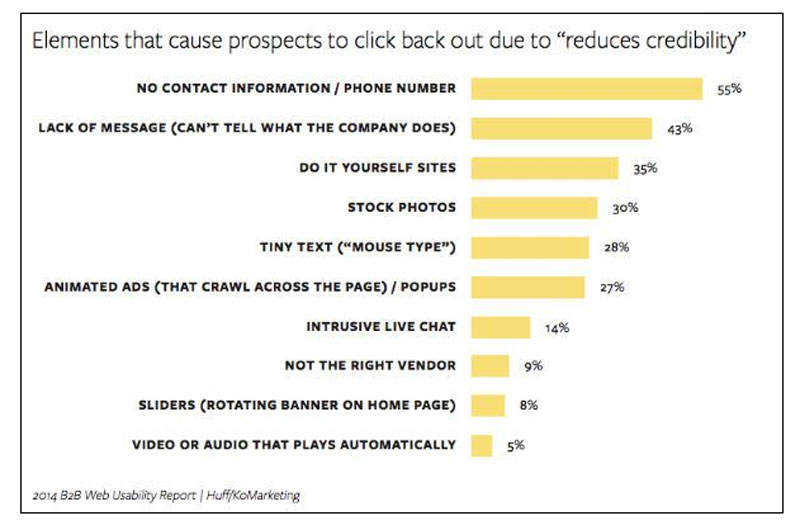 At Market 8, we also believe that displaying our contact information to buyers is highly important, which we talked about in a recent blog post on creating the perfect about us page on your B2B website.
While the lack of clear contact information on your B2B website is definitely the worst possible thing you could do to your credibility, it's not the only thing. Not by a long shot. Here are other, insightful answers from the respondents in the Content Marketing Institute survey about what kills credibility on a B2B website:
43% said a lack of message, as in they couldn't tell what a B2B actually did
35% said a do-it-yourself site (which is why we published an in- depth guide into how much you should really spend on a great B2B website redesign)
30% said the presence of stock photos
28% said tiny text
27% said animated ads that crawled across the page/popups
14% said intrusive live chat
9% said the incorrect B2B vendor
8% said the presence of sliders or rotating banners on the homepage of a B2B website (which is why we also published this eye-opening blog post on just why these sliders or rotating banners have to be banished for all time from B2B websites)
5% said either video or audio that automatically starts playing on the site
There you have it. That's a whole lot of violations that will contribute to killing off the credibility of your B2B website. Now that we have all of the possible offenses out of the way, we can focus in earnest on exactly what you have the power to do right on your B2B website.
Offer High-Quality Content to Your Leads, and Become a Thought Leader
Building trust comes down to how well you know your stuff as a company. One of the most effective ways of building trust on your B2B website is by producing top-notch content that offers educational information and addresses some of the various pain points of your leads. Once you begin to consistently publish high-quality content of this nature, your site visitors will come to see you as a thought leader in your industry, and with that comes great credibility.
Building trust comes down to how well you know your stuff as a company.
By being a good teacher and educator through the content on your B2B website, you establish a reputation as the go-to B2B website for information.
PROTIPSuggestions for topic ideas for high-quality content include best practices in your industry as well as dealing with the problems that your prospects face. The best publishing platform for high-quality content of this kind is your corporate blog, as research shows.
Thanks to the power of social sharing, getting your high-quality content across different social media channels is also easier than ever, which is another bonus of blogging.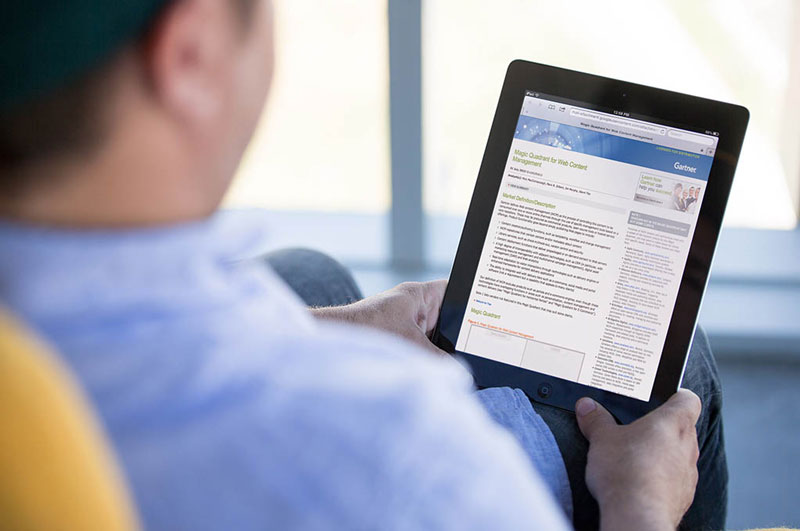 For instance, check out the Dropbox blog, easily one of the most popular B2B blogs in the whole U.S. and the world. The blog is regularly updated with extremely high-quality information that provides great value to its many readers, as attested by the lofty number of social shares in every blog post. On the blog, readers can expect pointers on Internet security, company news about Dropbox services, and a showcase of highly useful apps. What's not to like?
Showcase Your Testimonials
Testimonials are a tried, tested and true form of third-party trust verification. You can't have a credible B2B website without them. Testimonials immediately lower the suspicions of first-time site visitors and leads because they see that another individual is willing to vouch for your reputation. This is exactly why testimonials are such powerful players in the trust-building game.
Testimonials immediately lower the suspicions of first-time site visitors and leads because they see that another individual is willing to vouch for your reputation.
Of course, while just having an average testimonial is already good, you can elevate your credibility even further when you keep these specific points in mind when crafting your testimonials:
Use testimonials that harmoniously support the assertions you've made on your webpages
Use testimonials that feature complete photographs, full names and credible credentials to show that the persons providing the testimonials aren't merely credible, but also important enough to really listen to
Use testimonials from people who correspond to your ideal buyers
Use video testimonials, if available to you, since written testimonials may still be forged, but video testimonials are that much harder to fake
One B2B company that has its testimonials down pat is HubSpot, without a doubt. While some companies elect to feature some testimonials right on their homepages, HubSpot instead decided to dedicate a separate, standalone page on its website to testimonials. Hey, when you're as big, popular and good as HubSpot, you need an entire page to document all of the positive testimonials you've racked up through the years.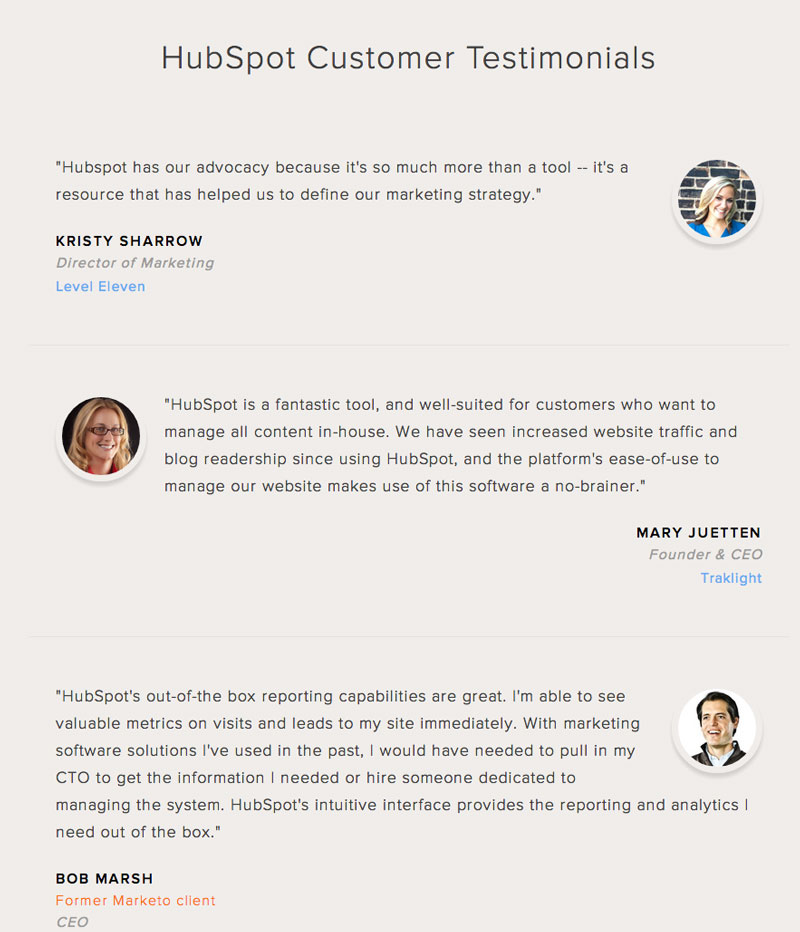 Notice how each and every one of the HubSpot testimonials features the three basics of an incredibly successful testimonial:
An attractive photograph
The full name
The credentials
When HubSpot leads are scrolling down the page, guess what they see? They're treated to a whopping 15 testimonials that are highly credible, which means that leads will gladly listen to them.
Display Those Security Seals
Never forget that the Internet has an old reputation that's not too squeaky clean. Many people still associate the Internet with scams, rip-offs and otherwise dubious transactions, so your B2B website has to naturally rise beyond this by showing your buyers that your site is 100% secure.
One of the first places to start is the display of security seals that will put your buyers' minds at ease that their money will be in safe hands.
PROTIPSeals like the VeriSign seal are a popular way to build trust online, as are mere trust seals such as the ever-popular McAfee Secure badge, the TRUSTe seal and the BBB Accredited badge.
A quick word on actual security seals versus mere trust seals. Seals like the VeriSign one are, technically, the only types of seals that guarantee the strictest Internet security by way of the encryption of data from a browser to the actual website. The other badges that are also popular—such as the McAfee Secure, TRUSTe and BBB Accredited ones—actually don't guarantee that a website's 100% secure.
These badges merely tell you that McAfee, TRUSTe and the BBB have done their respective analyses of your website and deemed it safe by their standards. However, as for actual encryption, you can only be assured of that when your B2B website gets an SSL security seal as opposed to a trust seal.
However, in the world of Internet commerce, perception is reality, as this insightful bit of research from the Baymard Institute makes perfectly clear. The study found that, of all the actual SSL security seals, only the one from VeriSign was the most popular of all SSL and trust seals.
The other SSL security seals—ones from Thawte, Trustwave, Geo Trust and Comodo—ranked very lowly because site visitors didn't recognize them. Interestingly, the trust seals from McAfee, TRUSTe and the BBB dominated the top four positions in the survey.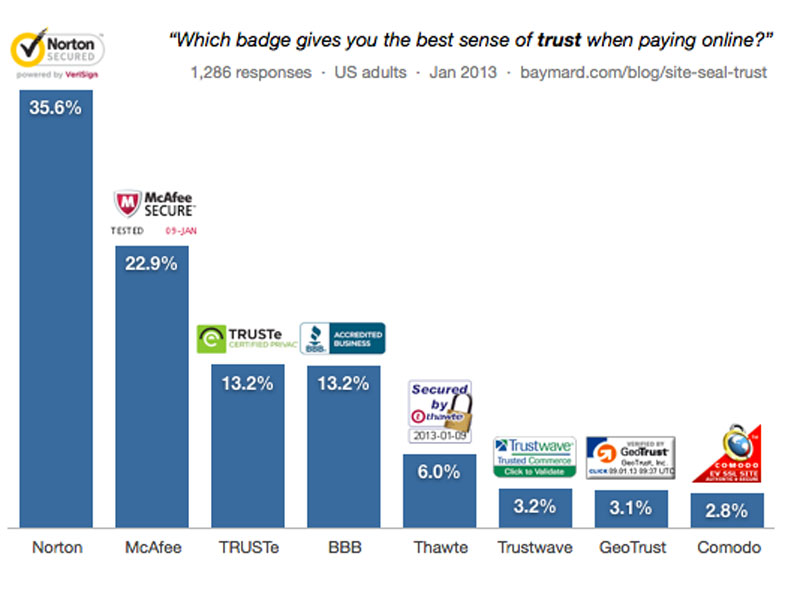 This clearly indicates that the actual security of a website isn't as important to buyers and users as the perceived security of a website. As such, it's obvious that displaying mere trust seals on your B2B website will be very effective for building online credibility.
Still, to give your buyers the most thorough security environment, we recommend that you go all out and get the VeriSign seal for your B2B website to ensure complete data encryption.
Make Your B2B Website Extremely Easy to Use
One technique to build trust relatively quickly is offering your buyers a second-to-none navigation experience. When your website is very easy to use, something just clicks in the minds of your buyers. They say to themselves, "If this website makes it so easy for me to find what I want in a very short period of time, then the company must know exactly what it's talking about." And that leads to an instant boost of credibility.
One technique to build trust relatively quickly is offering your buyers a second-to-none navigation experience.
Essentially, to give your buyers ease of use, you should focus on three, distinct aspects of the user experience:
The actual ease of navigation
Fast page load speeds
Sticking to conventional web-design standards that give buyers what they expect
We constantly talk about navigation and the user experience simply because they're super-important and can't be sacrificed for anything. The fact that website ease of use prominently figures into building trustworthiness on your B2B website just confirms that navigation must never be an afterthought during the web design and development process.
Ease of navigation comes down to taking three things into consideration:
Visual design
Social cue design
Content design
Studies like this one from the Journal of Electronic Commerce Research prove that your buyers use the following factors to determine credibility on a website:
Navigational design (consistency)
Easily accessible information (no broken links, etc.)
Thoughtful page design
Human-like features like photographs (of your team)
Social media-friendly elements like blogs and social sharing opportunities
"Informativeness" such as clear-cut information about your product or service
Assurances like transparent company policies
Make sure your site navigation is as good as it can be, and you'll be pleasantly surprised at how your leads and site visitors will instantly deem you very credible as a B2B.
Make Sure Your Webpages Don't Take Forever to Load
No one likes waiting a long period of time for any page on your B2B website to load. It's just human nature, especially on the Internet: people just don't want to wait and are impatient, so give them what they want.
PROTIPDon't make them wait longer than they have to for any page to load. Quickly and efficiently loading pages should be a top priority when it comes to ensuring that your B2B website is very easy to use.
Add to the fact that page load times are actually becoming factors when it comes to ranking on the SERPs, and you can't put fast page load times on the backburner any longer. Too many times, your web designer will be tempted to make a page look cool or graphically fancy, but this takes up extra capacity that slows down the loading of pages, which your buyers hate.
So don't sacrifice quick page load times to have a nice-looking page on steroids. Instead, go with what's practical, which is a clean and simple page that pleases your leads and buyers by loading quickly.
Show Your Buyers Exactly What They Expect to See
Finally, your B2B website should give your buyers what they expect when they visit a website in 2014. This means no flashing animation, no popup windows irritating them every two seconds, and definitely no web design that looks like it came straight out of…1999.
The word "prototypicality" should mean something to you. Essentially, it's a reference to how a website should look based on what users expect of a standard website. In studies like this one, "prototypicality" rates highly among the factors that influence what users, including your buyers, look for when evaluating what makes an attractive website.
The more they believe that your website is attractive, the more they'll want to convert by either contacting your salespeople, filling out a web form, or making an outright purchase.
The word "prototypicality" should mean something to you. Essentially, it's a reference to how a website should look based on what users expect of a standard website.
Therefore, your B2B website should be designed according to the typical standards that are popular and widely accepted today. A good example is our own Market 8 website, which features simplicity, minimalism, clear information hierarchy and an overall, appealing design.
Conclusion
Trust…what is trust, exactly? It can be defined in so many different ways, but when it comes to your B2B website's online credibility, it should only be defined in one, vital way: by how much your sales increase because leads found your company trustworthy due to your website.
By implementing some of the credibility builders we talked about in this blog post, you can rest easy that you'll show your leads a much more trustworthy website.
In business, trust is a precious quality because it has to be earned. Once you have it from your buyers, it can't be neglected, abused or taken for granted. It has to be nurtured, so that your buyers graduate from trust into actual reliance on your B2B. However, before you get to that sweet spot, you have to design and build a highly credible B2B website.
Once you do, you'll notice an unmistakable uptick in leads, conversions and, ultimately, sales. You may even develop long-term, customer loyalty from the relationship, and it can all be traced back to how much effort you put into designing your B2B website to boost your credibility.