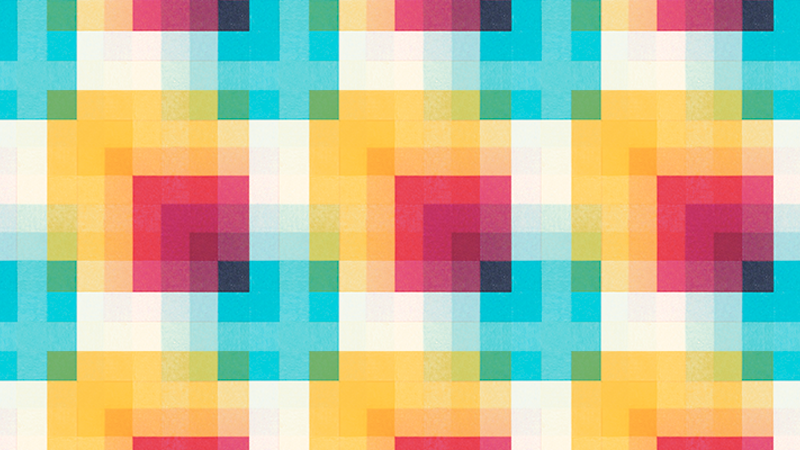 Appropriately enough, the last part of our gestalt B2B web design principles series covers closure. However, "closure" in b2b web design is very different from its usual context. Closure in this case talks about things that you can't fully understand, so your mind works overtime to make sense of them by relating them to something familiar.
Let's broach the principle of closure by first defining it:
Closure is when people first tend to look for a single and recognizable pattern when they're viewing a complicated group of individual elements.
In other words, human beings absolutely love simplicity, and the human mind does, too. That's why closure, in psychological terms, can be thought of as essentially trying to make order out of chaos.
Like all gestalt b2b web design principles we've covered up to now, closure can be applied both in the real world and in the web design world. It's in your best interest to find a B2B web designer who has a fine grasp of closure because that can really help to design a user-friendly site that helps drive conversions. We'll look at key examples in both to make sure you understand closure as thoroughly as can be expected.
Visualizing What Closure Can Look Like
To help wrap your head around closure and establish the concept for more complicated examples that are just around the corner, we want you to get what closure is all about by looking at a basic example of it.
Look at the design below.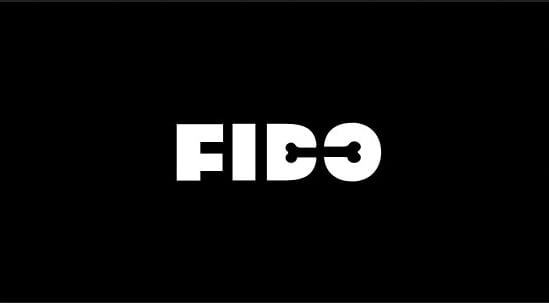 It spells out the word "fido"…that much should be quite obvious. Sure, the word "fido" isn't spelled out clearly because of the dog bone that's sitting across the "d" and the "o," but you can still easily decipher that the logo reads "fido."
In this case, your mind naturally interpreted the logo to read "fido" because that's the first thing that jumped to mind, especially when the arrangement was very easy (the dog bone didn't really complicate matters too much).
Now, look at the next design below.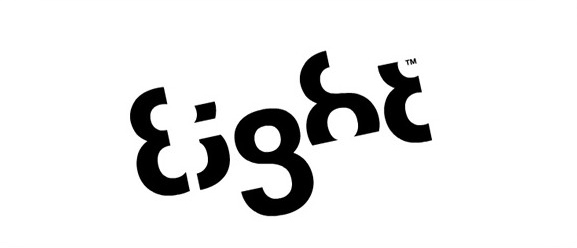 Upon first look, it clearly looks a bit more complicated than "fido". For one thing, each and every letter in the word is actually a figure eight. We use the gestalt b2b web design principle of closure to do two things:
To fill in the gaps because each letter is incomplete,
To combine every letter to form a complete word, which, in this case, is "eight."
For this design, your mind had to do a bit more work in order to fill in the blanks. Not only are there spaces missing in each letter, but the word is hard to read since the lines are squiggly.
However, this concept wonderfully brings us to the next rule within closure, which is that the degree to which it works is inversely proportional to effort that you need to exert to make it work. We just saw this perfectly in the two examples above.
It was very easy to decipher "fido" from the first design, and you were able to make out the word quickly. The success rate is high. In other words: small effort and big results. Now with the "eight" logo, you needed to expend more effort to find a recognizable pattern in that design. For some, it may not have even been obvious that every letter was an eight and that the whole world spelled "eight." In other words: a bigger effort and a lower chance of spotting the right pattern.
Web Design Examples of Closure
Alright, now we've showed you exactly what this principle looks like in action; we're getting to the good stuff: Gestalt in b2b web design.
Perhaps the most famous logo in the tech world that uses closure is IBM. Take a moment to look at the company's logo. This is a premier example of closure…can you tell exactly why?

IBM's logo is really just a group of horizontal lines that are arranged in a complicated formation. Our brains want to make sense of it, so we naturally and logically interpret is as IBM instead of s random group of horizontal lines.
IBM's logo is a great example of what a highly skilled designer can come up with. Through the use of this gestalt principle, the company's designers were able to create a timeless logo that is now instantly recognizable as a global brand. By having a B2B web designer who can put a lot of thought into crafting your B2B site's brand image, you, too, can benefit from having an indelible logo as the face of your company.
Another equally powerful and immediately striking example of the closure principle is the Electronic Arts logo. This huge and worldwide video game company logo is the epitome of another company that's managed to use gestalt design in a logo that is famous well beyond the video game world.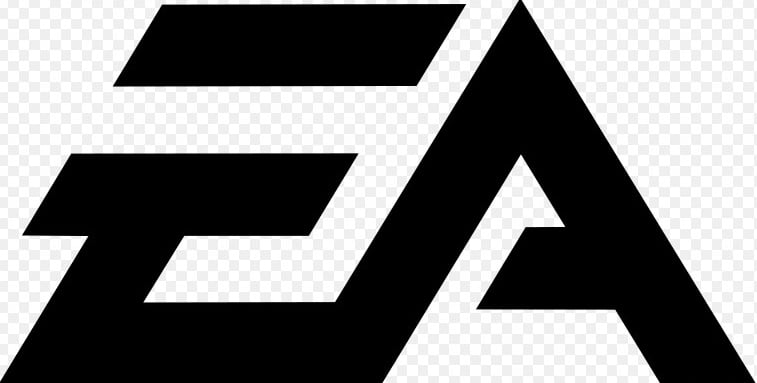 By looking at the EA logo, the closure principle is easy to spot. Similar to the way the principle is applied in the IBM logo above, the EA logo clearly displays a group of broken lines that works to form the acronym "EA." However, before you can actually interpret it as such, your mind actually has to organize these broken lines into a recognizable pattern—this is why these horizontal and diagonal lines in the logo suddenly take on the appearance of the uppercase "E" and "A."
As with IBM, EA is another stunning example of what a very knowledgeable designer can do for your brand. Through the knowledge of gestalt design, EA's logo designer was able to come up with a brutally effective though memorable and simple application of closure in the company's logo. Just imagine what a skilled B2B web designer with a good understanding of closure can do for your B2B company's brand image.
Quick Roundup of Other Noteworthy Closure Designs
The corporate world is full of wonderful examples of closure in—you guessed it—the various corporate logos of companies. Let's just deal with three well-known examples for our purposes here:
NBC: We all know the liberal broadcaster's logo, which is the NBC peacock. When you look at the peacock logo, note the implied shape of the bird with its covert feathers rising up above the neck and head of the bird. Your mind has to fill in the gaps between the shapes or "close" them to make out the shape of the peacock.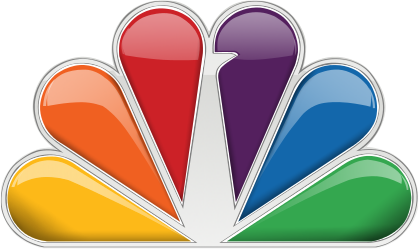 USA Network: Next up is the USA Network. Its logo is a black-and-white fusion of the letters "U," "S" and "A," featuring overlap between the letters. Again here, your mind has to pick out the pattern that makes the most sense and assign meaning to it. As with the NBC peacock, it is very easy to do.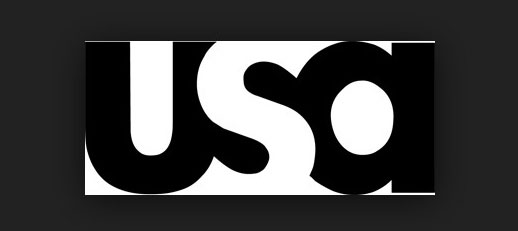 Sonoco: Fewer people may have heard about Sonoco, the global provider of packaging products as well as services, but its logo is a classic example of closure, too. Its logo features a capital letter "S" that's interrupted with a big globe right in the middle of it. Visually, the globe is actually part of the figure (think the figure-ground relationship from a few weeks ago) that's sitting on the white-colored ground. It goes without saying that your mind therefore has to identify the recognizable "S" shape in all this, which is still very easy.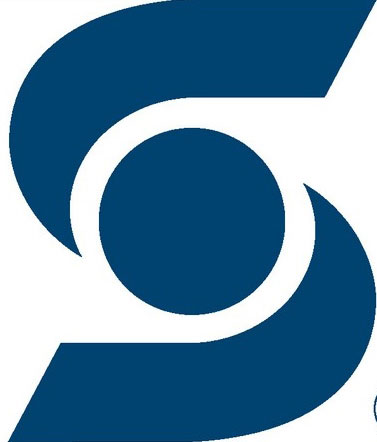 Conclusion
Now that you've read your way through all five tutorials on gestalt B2B web design principles, you can see that it wasn't that hard after all. The basic concept of gestalt is that all design laws and principles flow from gestalt, so it's like gestalt makes up the building blocks that all good web designers need to design, develop and build a high-converting, user-pleasing B2B website.
Closure is perhaps easier to understand than some of the other entries in our gestalt series just because it's a very straightforward concept, both intellectually and visually. If you see a figure that's complicated or resembles something similar, your mind will fill in the gaps to make it that much more recognizable to you. That, as you just saw, has led to some really memorable and timeless examples of design throughout the years.
Can you find good examples of closure in your own, everyday life?
How has gestalt web design helped you to think about B2B site design differently?
Do you now notice how gestalt's principles and laws influence even the design of your B2B site?