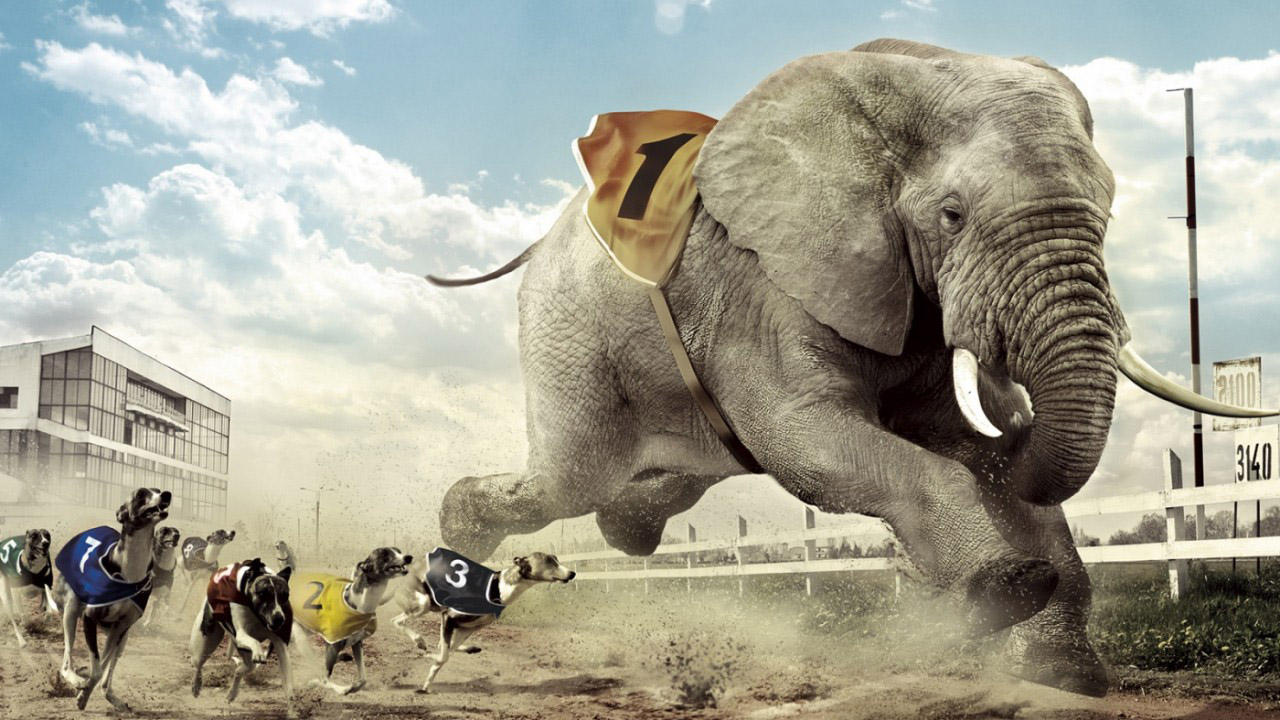 Website benchmarking allows you to see what others are doing, acknowledge their strategy and perhaps validate, or use the learnings to figure out, your own. The question is if benchmarking an investment in the future, or time lost forever?
The answer depends largely on 2 things: a) your objectives doing a website benchmarking, and b) the quality of the sites you are benchmarking.
"In order to get where we want to go in the long haul, it's important to take a look at where we stand today."
- Matt Winn, "the importance of benchmarking" Volusion


The trick is that most people understand benchmarking as "let's see what our direct competitors are doing, and see where we are weak." That's part of it. However, that's a pretty narrow definition.
A website benchmark can be made not only with your direct competitors but also other websites that have similar kind of features and are targeting products or services to markets similar to yours.
So, if you are for example in the Software business as a Service (SaaS), you may benchmark your website not only against direct competitors but also against other SaaS companies out there with customers similar to yours; or if you are in the Management Consulting business you might want to benchmark your site against other Professional Services sites in different spaces to see how they structure their services.
Have a Goal in Mind - Types of Website Benchmarking
When you do a website benchmark, you need to have a goal in mind. Your goal will determine the tools and skills you need to perform an effective benchmark with. Some possible goals can be put in 2 large categories:
a. Marketing
Find out about your direct competitors' ranking performance: Here you may want to find out things like site authority, traffic, ability to capture and convert leads, and overall rankings in MOZ, Alexa or Marketing Grader. Understanding your competitors' performance will greatly help when optimizing your website!

Find out how geared up your competitors are: Find out how well equipped and sophisticated their marketing engine is; are they using marketing automation? estimate ppc budgets and how good their ppc strategy is - i.e. do they have good landing pages supporting campaigns; identify how good their SEO is and find out specific keywords they are ranking for.

Content Strategy benchmark: You can find out about this one from both competitors and non-competitors. Identify their blogging strategy, frequency and quality. Do they use press releases and how do they use them?
b. Design & Usability
This is one of the most important type of goals, because it has to do with identifying pretty subtle features.
The bad news is that there are no tools to do this effectively; the inspection needs to be done manually by an expert because you'd be evaluating things like whether or not their messaging is clear, whether or not their website is designed around specific conversion goals, how good their copy and conversion paths are (calls to action, landing pages and thank you pages), quality of design, and readability. And so on.
You're essentially trying to figure out which areas of benchmarked websites are really good and seem to be facilitating ease of use and higher conversion rates. This exercise will also enable you to spot specific User Experience (UX) features – in other words, you're making sure that your potential customer views your website as practical, clear and efficient.
Good vs. Bad Reasons For Website Benchmarking
Good reasons from a marketing perspective: understand how your competitors are doing overall; identify Inbound Marketing aspects where your competitors are strong – for example, they might be using a marketing automation software; evaluate the number of visits they have; study their marketing grade; identify which keywords do they rank for and if they do rank better, understand why that is so; identify content strategies they are following; identify inbound marketing weaknesses; and so on.

Good reasons from a usability perspective: understand if there are particular features that are likely to be highly valued by their users; understand how their site facilitates the buying process; evaluate the quality of their copy.

Bad reasons: observe how cool and flashy their website is; observe their use of graphics; make a list of things to copy.

In the end you need to be more focused on delighting your buyers than on catching up with your competitors.
How Does Website Benchmarking Work?
If done correctly, website benchmarking is the most efficient way of ensuring constant progress and success. Here are 6 simple steps to your benchmarking process:
Identify your goal(s): The first step of a benchmarking exercise is to identify your goal. Ask yourself the following question: Why are you benchmarking anyway?

Identify your website's components: Identify all of your website's components: landing page, forms, blog, keywords, contacts & lists, email subscription box, social inbox etc.

Identify website's weaknesses and prioritize: Not all components of your website need improving. And of those that need improving, not all need it now. Identify the weaknesses and shortcomings of your website and categorize them by urgency. Do not do everything. Prioritize.

Choose your benchmark: Choose the websites that you wish to evaluate. But how?

First you can do some homework listing your competitor sites; look at their marketing grade. Quickly look at the ones that outperform the rest and focus your efforts on those. From a purely website benchmarking standpoint, if you don't find any role model here in this initial scouting, it's probably safe to say that the whole benchmarking exercise won't be useful and you're probably better off focusing on the Design & Usability benchmarks against potentially non-competitor sites.

Second, if your goal has to do with improving ease of use, usability and conversions you might want to make a second list including websites of other companies that target markets similar to yours (unless one of your competitors does a great job in this area as well). From this second list you can probably choose the ones that have a good and clear value proposition on their homepage, and you are able to know what they do within the first 5 seconds. I'll venture to say that if they have this piece figured out, it is probably a candidate to spend some additional time looking into.

Finally, prepare a spreadsheet listing the criteria that you would like to evaluate. For the usability and conversion benchmark, you'll need to take screenshots and write your critique based on the specific observations.

Screenshot of a benchmarking exercise we did for an American telephone service provider utilizing a combination of Marketing Grader and Visualize.com

Screenshots of a Benchmarking exercise we did for an Online News Magazine. Some of the usability features benchmarked were overall look & feel ease of use, ease to browse through latest news and features that made it easy for users to consume content.

Start benchmarking: Compare and contrast your selected components with those of the selected website(s). Organize the collected information to facilitate analysis.

Prepare the highlights report: While your information is still fresh, prepare a highlights report of your exercise. What have you found out? are your competitors customer-focused? If yes, how can you differentiate? And if not, then it's time to acknowledge the huge opportunity you have to increase your competitive edge by making your site more customer-centric. Use our benchmark reporting template to organize the information in a report in order to allow integration of the knowledge you have just gained in implementation.
Benchmarking Tools
"The importance of being able to benchmark your own web properties against other players in your industry can provide a great advantage when developing online strategies and SEO initiatives."
There are lots of websites out there that will claim to provide you with the best quality. Unfortunately, as with much online services, the really good ones have to be sorted out. To avoid the hassle, we've provided you with the most reputable online tools for effective website benchmarking:
1. Compete.com
Compete.com describes its function as delivering "digital intelligence that helps the world's top brand improve their marketing based on the online behavior of millions of [U.S] consumers" (source). Put it simply, Compete.com is a web traffic analysis service which allows you to view the number of U.S. visitors to the most visited 1,000,000 websites. It also provides engagement and demographic data for millions of websites, as well as information on tracking online market share in your industry, keywords identification, referral sources and new prospects using their own unique metrics.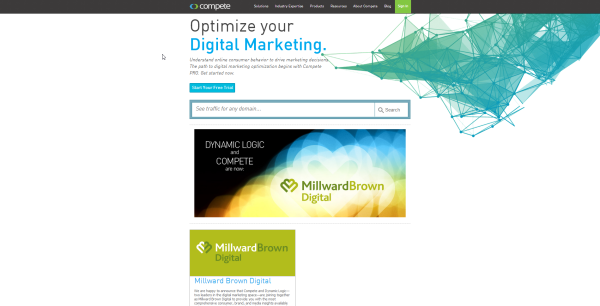 2. Marketing.Grader.com
HubSpot's Marketing Grader is a really helpful tool that studies "the effectiveness of your marketing" by evaluating factors including your website, mobile responsiveness, blogging activity, email marketing, social media activity, lead nurturing and analytics (source).
This will allow you to gain a clearer picture of where your website is at and what needs to improve. They focus on helping you understand: blogging, social media, Search Engine Optimization, Lead Generation, Mobile Marketing and Competitive Benchmarking.
3. HubSpot Competitor Tools
Also known as HubSpot Analytics, this software provides, in its own words, "resources to keep you one step ahead". It allows you to: compare indexed pages, mozRank, linking domains and other key SEO metrics; get knowledge on the quantity of Facebook and Twitter followers of your competitors; track competitive data over time; receive a monthly marketing report; get a week-over-week comparison of each channel.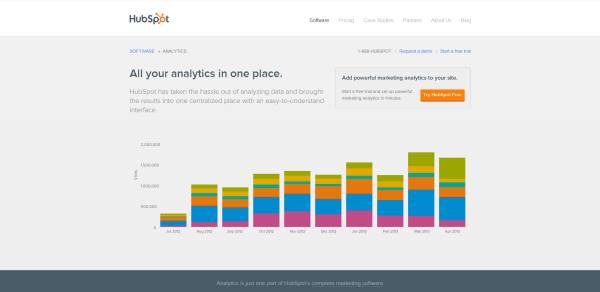 4. Market Samurai
Market Samurai is an all-in-one kind of package. They assist you in running a complete marketing campaign through many steps. What is particularly relevant to your benchmarking goals is that Market Samurai allows you to analyze your SEO competition. This means that it will tell you what keywords and meta-tags are used by your competitors so that you can compare and decide how to act accordingly. You can also monitor your marketing results to track your efforts and know where you'd be able to improve.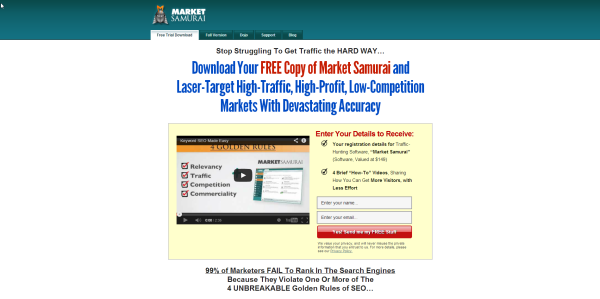 5. Website Criteria
WebsiteCriteria.com collects data from over one hundred website features that are individually assessed according to different criteria. They study the top 10% of websites and currently have data on over three hundred websites and counting.
This impressive database allows for a well-balanced analysis that is likely to cover a broad range of design and features. You can find a sample report of what they do here.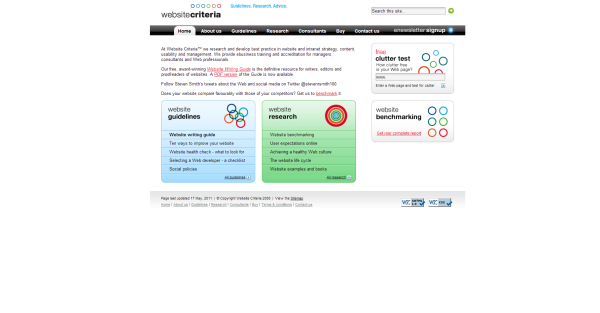 6. Alexa Ranking
Alexa is a simple tool to know your web traffic data. You can compare your current position with that of higher ranked websites to put it into context and know how far or close you are to getting there.
However, there is a controversy out there about Alexa's effectiveness. So we recommend doing some research before deciding on whether to use it or not.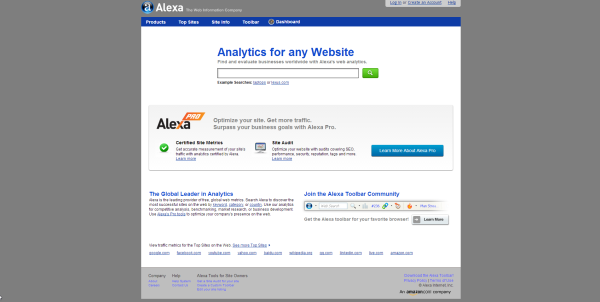 7. Google Trends
Google Trends allows you to see how your website has been trending over a period of time which would allow you to compare with your competition. It also allows a breakdown by location as well as a correlation of the data with search keywords.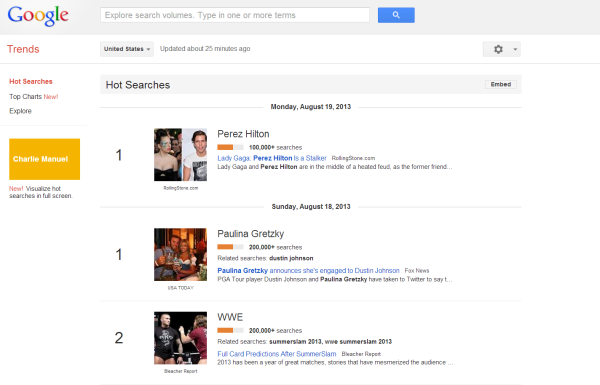 8. VisualizeTraffic.com
VisualizeTraffic.com is a fairly simple tool that can give you an estimate of the nubmer of visitors of a particular website. The numbers always seem to be always quite a bit higher than Google Analytics, but if you discount them by about 30% you'll be in the ballpark most of the times.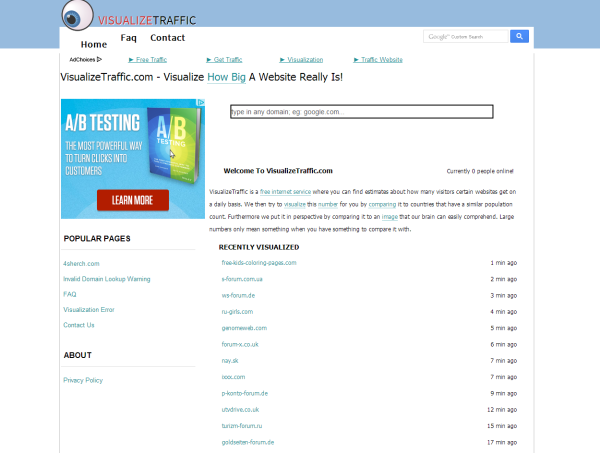 9. BuiltWith.com
This one is absolutely great. It has the ability to benchmark many aspects of a website, of special interest is their Lead Gen benchmark feature, which tells you whether or not they are using a marketing automation software, and the platform in which their website is built.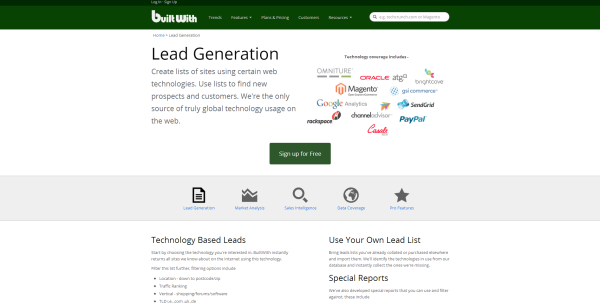 Putting Things Into Perspective
Think about it this way: Website benchmarking is just an initial reference. It's a common fallacy to view website benchmarking as somehow having to do with identifying "shortcomings". That's not really accurate.
The point of a website benchmarking exercise is to see if a competitor is having success, and if so to determine why. You might even find out that their successful strategy validates your own, which should be unique to your website.
Sure, some obvious flaws might jump out, but that's not the point, or rather that's not the main point.
Let's say for example that a competitor is gathering a lot of attention in search as well as huge traffic, but for some reason their inbound marketing plan seems lacking in some essential aspects. Now it's our turn to identify why that is. What are they doing right?
A Word of Advice
So while website benchmarking is a vital necessity for any company wishing to expand its market and increase its profits, it should be put on the same level of importance as your company's self-confidence. After all, you do not want to be the insecure kid who is always comparing himself or herself to others without ever developing his or her own strength and personality, do you? Comparing yourself to others would give you an insight into what you might be presently doing wrong, it's true. But once you have benefitted from that insight, you should continue to develop your own company with your own unique touch in order to maintain creativity and a unique brand image. In other words, learn how to do it and then do it your way accordingly.
Oh, and One Last Thing...
Don't compare apples with oranges. Only things that are comparable should be compared.
Don't compare your dog grooming shop's social media presence with that of a Software company, at least it can't be a straight comparison.
Focus on similar processes and what can be done right here right now to improve your company.
Conclusion
Website benchmarking's main advantage is to have a general understanding of what a competitor is doing right, and what you could be doing better.
This can include anything from traffic - why do they have lots of traffic: is it the size of the site? The inbound links? The age of the site? The keywords used? The referring sites? The SEO? The Page quality? - To the ability to convert leads into customers.
By the time that understanding has been turned an action plan, you would already know what features or functions should be modified, added or removed to improve your website.
If you have no specific goal, or the quality of your target benchmark sites isn't any good, then benchmarking is probably not for you.
In the end, whatever you do to improve your website and online presence should be based on what your customers want, not driven by what your competitors are doing.