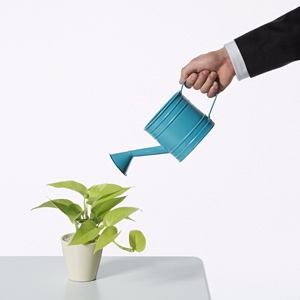 How important is to have a lead nurturing setup setup? A lead nurturing campaign, is one of the most important aspects of the sales process, specially for a high-value / B2B product or service company.
To put it in perspective, think about all the contacts you have made, people you have met at different occasions, that you know that if they only listened to you, they could benefit enormously from your expertise. If they would just listen! OK now multiply that by 1000 (depending on the size of your firm), and that is probably the number of people you are potentially reaching through all your business setup, including your website.
Now, I'll give you a task. Setup coffee time with all the ones you think have a potential to buy and simply explain to them how they can solve their problems. Seems impossible? Of course it is, it will take years to go down the list.
If your organization does not have a setup to share your wealth of knowledge to help your potential buyers realize that there is a solution for their business problems or opportunities, you are simply wasting an enormous amount of money.
This is the role of a lead nurturing campaign. Contrary to a common misconception that a lead nurturing campaign is a bunch of emails to push the sale of your products or services, a lead nurturing campaign is the process of building a relationship with your leads and accompanying them them through their buying journey, from realization and discovery all the way into the evaluation and buying stages. Here are 6 key reasons why a lead nurturing campaign matters to your sales funnel:

1. You can't sell anything to anybody unless they are ready to buy. In order to move a customer from a stage of "aware and in pain" to a stage of "qualified and ready-to-buy lead", there is a complex process of education that cannot be achieved through pushing your product or service in every touch point.
2. Customers prefer to move at their own pace. In the early stages of the buying cycle, where most of your leads are likely to be, your potential buyers actually do not think they need anything from you. They are in the process of analyzing their own problematic and understanding possible approaches and solutions. Your lead nurturing campaigns should be designed to allow those early buyers to move through the process of realization and discovery, into the sales funnel, at their own pace. Your role in this early stages is to provide the infrastructure to make that possible.
3. It minimizes leaks in your funnel. If your system relies on sales person interaction only, I can guarantee you have a leaky funnel and are leaving a lot of money on the table. Acquiring a customer is a time-intensive and challenging effort, in the traditional way a company may be assigning resources to physical interactions and follow up activities handled by sales persons. The problem is that most new leads are not yet ready to engage, so if a sales representative does try to contact a lead before he or she is ready, the success rate will be low, and two things will happen:
a) the sales persons will naturally gravitate towards the hottest leads, and
b) the general impression that marketing-generated leads are not good will be reinforced, as a result, leads risk getting lost, ignored, or snatched up by competitors!
4. Lowers the Cost of Customer Acquisition (COCA). According to Forrester Research, companies that excel at Lead Nurturing are able to generate 50% more sales-ready leads at 33% lower cost-per-lead. A lead nurturing campaign is thought in advance, executed, analyzed and tweaked to improve performance and engagement. This naturally leads to reduced COCA and improved effectiveness.
5. Leads will qualify themselves. One of the most time consuming tasks for a sales organization is to go through the process of qualifying a lead. If that qualification process is not done tactfully, your organization runs the risk of actually discouraging the lead causing it to lose interest. A well thought lead nurturing campaign will allow your potential buyers determine if your product or solution is a good fit for their situation, allowing only the best fit leads to move through the funnel.
6. It keeps up the perception that your company is active and avant garde. Of course this depends largely on how is your nurturing campaign designed, however if you follow best practices, your touch points will involve the use of multi platform messaging, allowing your potential buyers to discover you in several different ways.
A lead nurturing campaign is then a very important piece of the puzzle for a successful inbound marketing program. Stay with us to analyze the different components that support an inbound marketing strategy.
Also, if you can think of another key reason why a Lead Nurturing Campaign is important please comment.