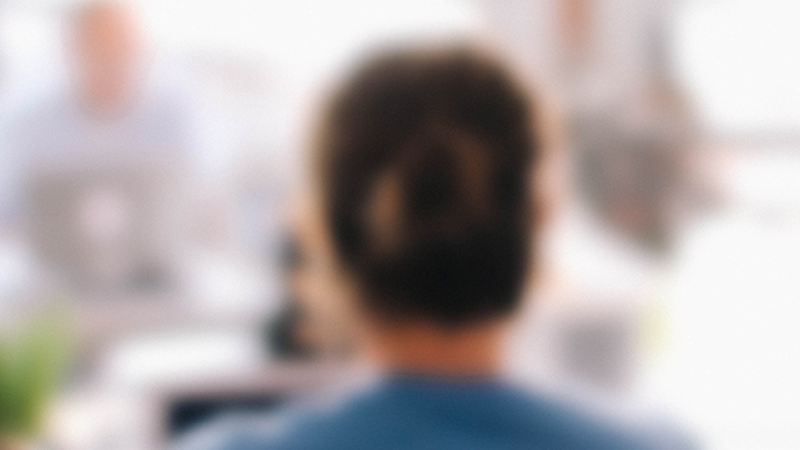 The first step in marketing and understanding why your customers want to buy your B2B product or service is understanding your own product or service from the viewpoint of your customers. This is the most basic building block from which everything else flows. This sounds obvious, I know, but try this:
Talk about your product using the exact same words your customer would use
Now make that into one neat sentence
Not as easy as it seems, is it?
Knowing how your customers think about your own product or service intimately will help you to exactly zero in on the competitive advantages that it has. This will help you a lot when the time comes to market said product or service because you're in a position to highlight these competitive advantages.
So what does it take to establish this kind of insight? Do you talk to your salespeople? Do you talk to your marketing team? Actually, it starts with something more basic than that. You'd be surprised by how answering fundamental questions about your company can give you an unsurpassed understanding of it and your product or service.
By the end of this blog post, you will be more than able to articulate your company profile, understand your product or service and customers, and translate that into amazingly effective marketing.
1. It All Starts Here: The Mighty Company Questionnaire
The good, old company questionnaire can be taken for granted since it is just a survey that asks B2B companies a slew of in-depth questions about their business operations. This usually includes various aspects of the company brand, its product or service, the behavior of its buyers and the company website. However, underestimating the company questionnaire is a grave error.
Underneath its plain exterior actually lies a mighty tool for helping you build your company profile. Once you have that established, it's easier to both define your product or service and understand just why your buyers want to purchase it.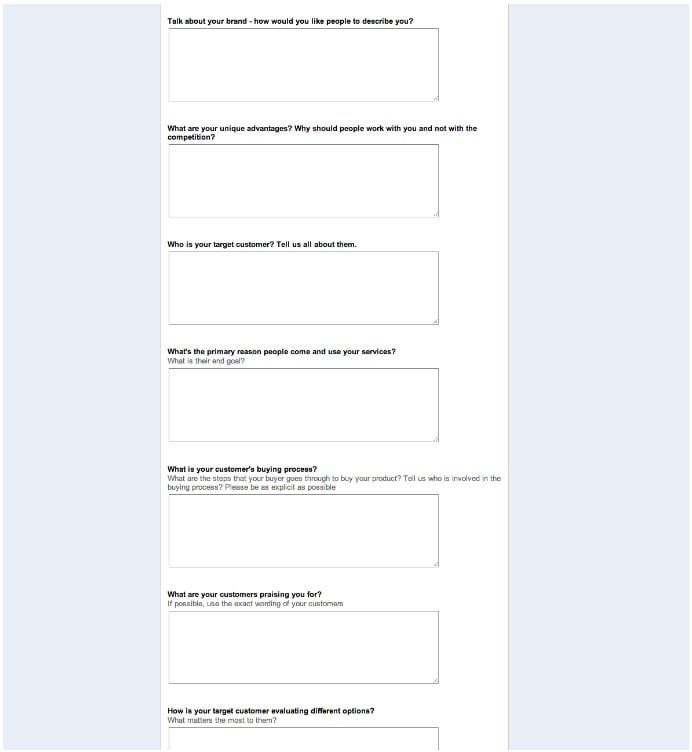 The stuff on a company questionnaire is quite diverse. Questions may include asking you to talk about your brand (how you want your buyers to think of you), identify your target customers and even which of your services may benefit the most from a new site design. In other words, not only does it help you determine just who you are as a brand, but it is also the first step toward empowering you to get a really holistic view of your B2B company.
Here are ideal examples of the kinds of questions you want on any good company questionnaire:
What are your unique advantages and why should people work with you as opposed to your competitors?
What's the main reason that people use your product or service?
What are your target customers' major doubts and reservations?
Why are you thinking about investing in a redesign of your B2B website?
Do you intend to use many pictures, videos or graphics on your B2B website? If so, do you have access to them right now?
It's important to note that all of these questions should be open ended. You need rich insightful answers so never, I mean, never do the multiple choice thing. Always stick to open ended questions.
Here are some very handy sample questionnaires to give you a thorough idea of what can be on a company questionnaire:
10 Vital Questions for B2B Companies
Forbes: 20 Most Important Questions for Any Business
Typical Company Profile Questions to Master
Now, just as important as knowing what to ask on a company questionnaire is how to get started with thinking about the kind of company that you are. Here's a handy resource that discusses what goes into an effective company profile.
2. Understand How Your Customers See Your Product or Service
When you understand how your customers see your product or service, you're much better able to communicate with your customers about your product or service. As a result, you're in a much better position to market it to your customers because you'll be talking to them about it in ways that are extremely relevant.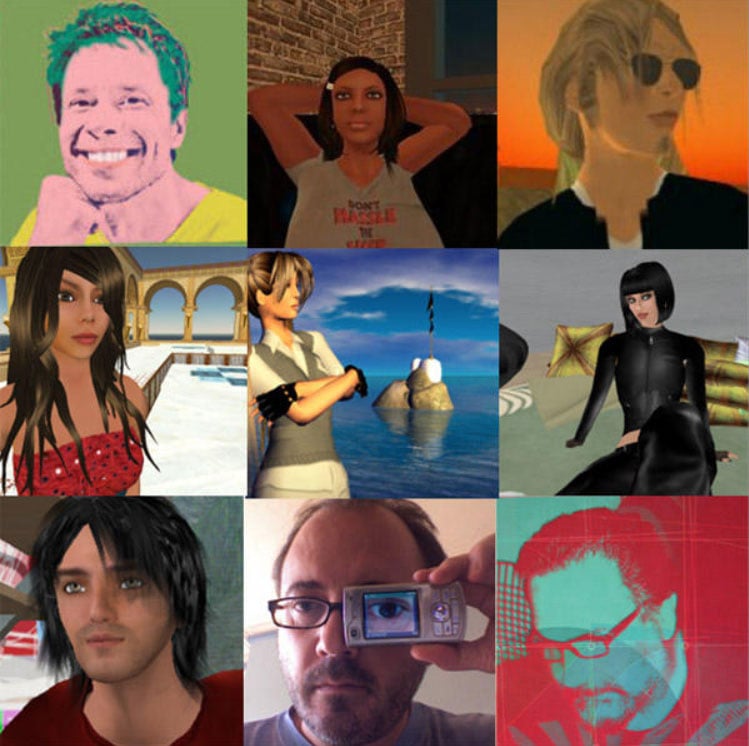 The key is to approach your product or service in the exact same way that your customers would. The worst thing you can do is talk past your customer because that won't result in nearly as many sales. A recent McKinsey research shows how little affinity there is between B2B companies messaging and actually how unimportant that stuff is for their their buyers; It's like the 2 are talking different languages.
So the first step is understanding what problem your product solves for your customers.
Then, figure out how their lives would be different without it and what their likes and dislikes about it are. Finally, it also pays to understand if they think aspects of it could be improved and how they would recommend it to others.
Consider this scenario: Let's say you sell computers, and your customer wants to buy a bunch for his employees to make his workplace more efficient. While you're more concerned with the system specs like the speed of the computer chips and how much data the hard drive can hold, your end users are really more concerned about how long these computers will last and how easy they are for the employees to master.
In such a situation, you won't be able to sell your product or service to your customers since you can't relate to how they see it. To solve this problem, you have to ask your customers what they want or like about your product or service. That's the only way to know what you're selling, too.
To get this critical information from your customers, just ask them key questions like:
What problem does our product or service solve?
Why did you buy it?
What do you particularly enjoy about it?
Do you think anything about it can be improved?
Was your experience with the product different from the expectation you had before buying it? How?
3. Understand How Your Customers Buy Your Product or Service
Seeing the buying process through the eyes of your customers is integral to helping you define your product or service. Understanding the buying process will enable you to create a B2B website that caters to their needs of finding the solution they're looking for in an easy and efficient way.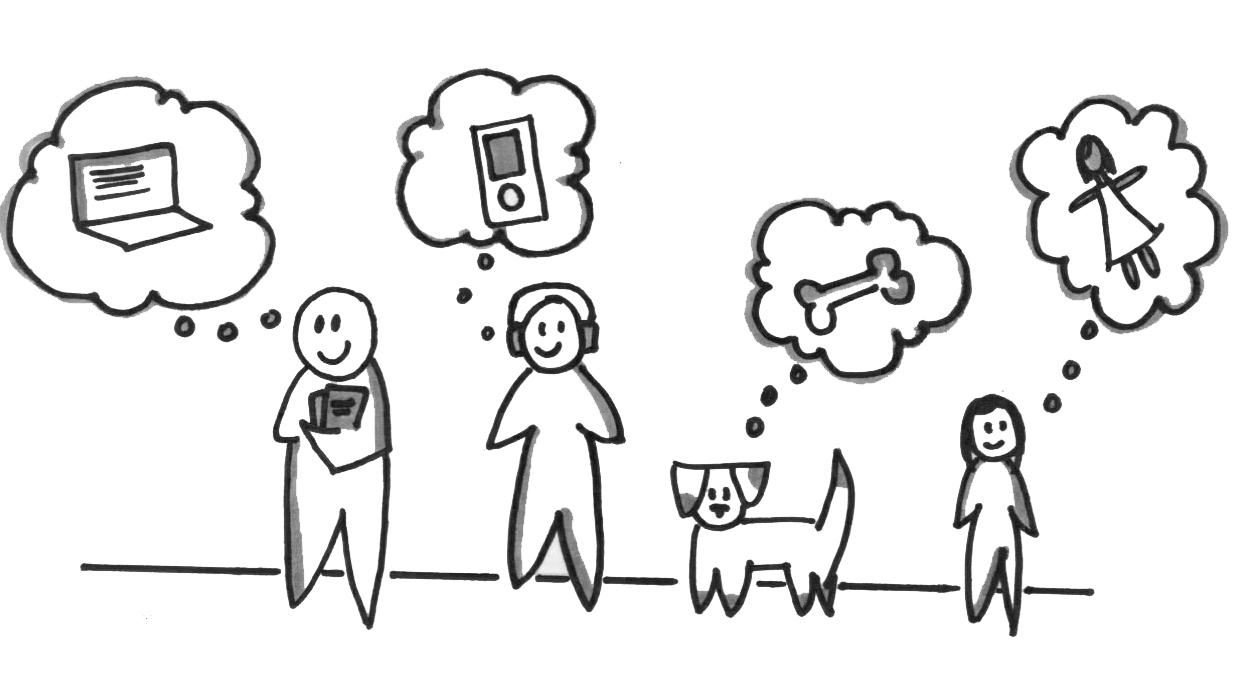 Image Credit
In general, a buyer will learn about your product when he does online research to solve his business problem, and he'll evaluate it based on which B2B company can actually provide him with the best solution to the problem.
Let's say your customer is looking for air conditioners, puts in his keyword and sees the first page of Google results. Because you've perfected SEO, your company's at least on the first page of results. The customer clicks the link to your company to see if you have the solutions he's looking for.
However, when he navigates your website, he gets confused and irritated because your site navigation is horrible. As a result, after trying a search on your website and aimlessly clicking some category links from the navigation bar, he leaves your site, taking his business elsewhere.
Sometimes, you and your customers don't see eye-to-eye as far as the buying process is concerned. To successfully sell to them, you have to understand what they want in said process.
To obtain this crucial information from your customers, just ask them key questions like:
What is your buying process like?
Who was involved in the decision?
Which competitors did you consider?
Why did you choose us?
How did you evaluate different options? What criteria did you use?
How was it trying to find what you were looking for on our website?
Again here, it's super important that you ask open ended questions only. You need to capture exact phrases used by your customers; these are crucial to compose your messaging for your new website and your campaigns.
Also you should ask these questions to recent customers that already bought your product, but not too long ago, so their buying journey is still fresh in their mind.
Asking questions to your most recent customers is a treasure for you to reverse-engineer successful sales, so you can tweak your marketing approaches to replicate those successful sales.
Now, you could also pick up the phone and call your customers instead of sending them a questionnaire. This is a valid approach and actually prefered by some. The reason I prefer the written answers is because I get exactly the same language they use to describe everything in a written form, instead of note taking where stuff can morph. Here is a comparison chart between interviews and surveys. Again, you need the exact phrases, so if you do call, make sure you record the call so you can get back to it and capture the exact language used. Also you need to consider that phone interviews are a significantly larger time commitment from your part.
Conclusion
Being able to succinctly define your product or service is power. Once you do this, you not only relate to how your customers see your product or service, but you also open all sorts of marketing ideas for your company.
The key to being a successful B2B company is understanding your product or service from your customer's point of view. This is nonnegotiable. As soon as you see things from the point of view of your customers, you understand why they like your product or service and what they like about it. In turn, this allows you to market your product or service much better.
Just think about the alternative:
a) Make a bunch of "educated guesses" You'll get together with your marketers, in a room and start making assumptions about what your customer wants and start working on your website and entire marketing campaigns on a bunch of assumptions. I mean, it's like invading Iraq all over again…
b) Focus groups. These simply don't work for our purpose here simply because we are not trying to measure customer reactions, and it is proven that the environment in which they are conducted influences the outcome.
How familiar you are with your product or service, why your customers want to buy your product or service in the first place and what gives your product or service the competitive advantage are crucially important. Knowing this information lets you succeed at powerfully marketing your product or service with excellent results.
The road to you getting a completely holistic picture of your B2B company starts with the company questionnaire. It is something that has definitely been taken for granted more than it should.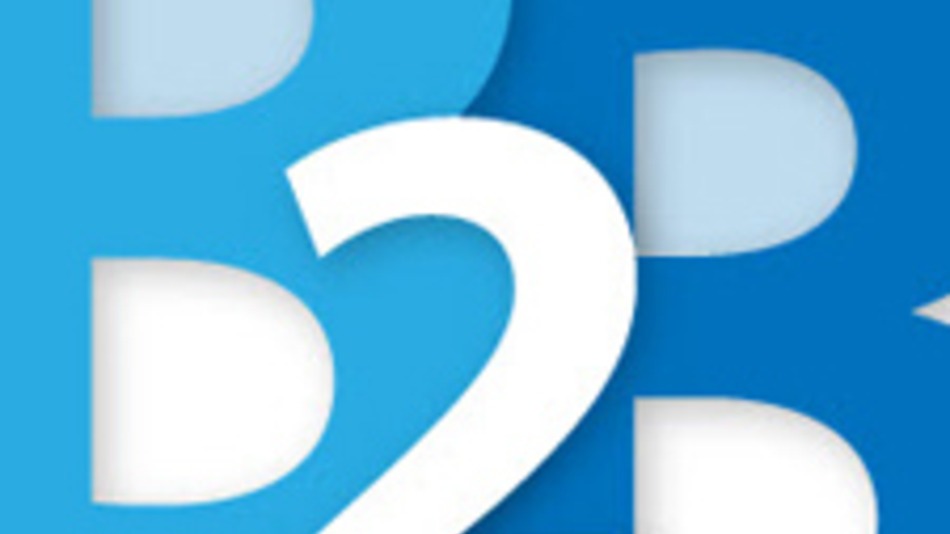 By answering questions about who your target customers are, what your advantages are over your competitors and what you hope to accomplish with a site redesign, you start to get a clearer picture of your company profile. In turn, this allows you to be able to market your product or service with much greater efficiency.
When your company questionnaire is done, you have to start composing your buyer persona. This helps you to understand exactly who your buyers are and is more than just getting an insight into their buying behavior. You'll literally be able to understand why they buy as well.
Finally, by understanding the new B2B buyer, you are prepared to work on the messaging of your website. This stuff is critical before you start thinking about what to include in your new site.